Electronic Music News > 7 Female House + Techno Artists Shaping the Scene
7 Female House + Techno Artists Shaping the Scene
Continuing International Women's Day celebrations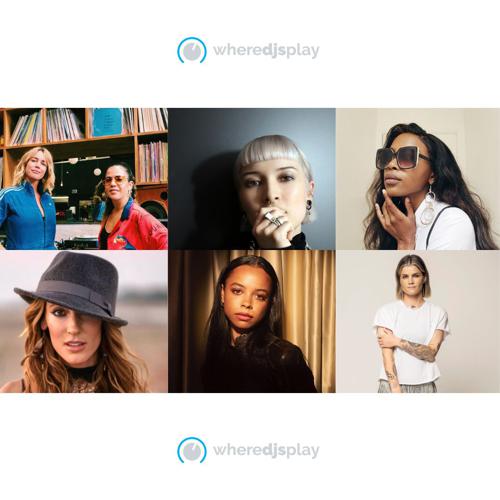 Image credit: iamtrend
We continue our celebration of International Women's Day and women's achievements in dance music this week, highlighting established and rising female House + Techno stars: Maya Jane Coles, Gina Jeanz, J Worra, Tsha, Carly Foxx, Daisybelle and Jadele.
If you are a Techno fan, Maya needs no introduction. With sell out shows across the globe, 3.13 million SoundCloud followers, curating stages, chart topping releases and countless awards, Maya's dedication to the scene is continuous and has seen her rise to become one of the forerunners of Techno, rapidly.
Often involved at every stage of the production process when creating music, from using her own vocals, to designing album art, Maya is a creative through and through.  
With her single Freefall released at the end of last year, an EP under her Nocturnal Sunshine alias, plus a recent photo of her back in the studio on her socials, we cannot wait for Maya's next move.
Born and raised in Namibia, now based in Zurich, Switzerland. Gina Jeanz has established herself as a creative force in the House scene. Using lockdown to double down on her creative efforts, working with Red Bull and releasing two of her own EP's and her debut album. Gina Jeanz flies the flag for women in dance music in Africa and is an inspiration to many. 
Gina is already renown for her innovative productions and sets. With support from the likes of Wonderland, BBC 1 Extra, Soulection and more. Previous bookings for Boiler Room and dates in the diary for this year for Unum festival, Love Fest and shows across Switzerland, we are excited to see where Gina takes us next.  
London based DJ and producer TSHA has had a big year, massive in fact. With her debut album Capricorn Sun' garnering support across the scene and winning @bbcradio1 'Best Album Project' of the year and a sizable number of remixes for big names, TSHA is firmly on the map. 
With an innovative approach to production and mixing, a string of international dates in the pipeline this year. including Sonar and Coachella, TSHA is on fire. 
J Worra has been soaring high with her unique blend of House and Techno. Her latest single, "Higher than You" is a perfect example of her ability to create catchy yet sophisticated tracks that stay with you long after the music stops. Whilst the combination of swank and infectious energy she brings to shows parallels this. 
With releases already on esteemed labels such as Realm Records and Club Sweat and a Spring / Summer Tour across the states, with bookings for Beyond Wonderland and more this year, we predict J Worra will keep on rising. 
Already well established artists in their solo careers, Puerto Rican Daisybelle and Australian Carly Foxx have played club nights and festivals across the globe, so naturally, together, they are an infectious powerhouse, uplifting dance floors across the scene.  
Their project, the OnlyFans House Party, is a testament to their ability to create unique experiences that engage their fans and keep them coming back for more. The duo has performed at major festivals like Creamfields, featured on BBC Radio 1Xtra and more.
WIth a string of bookings at high profile UK venues and internationally we can't wait to see what this year brings for the duo.  
Jadele ascribes to the old school "Journey" approach to DJing, Jadeles sets speak to her audience no matter where she plays, educating and innovative in her sets and her own productions. 
Jadele often covers all aspects of production herself, recording vocals and writing and this passion carries through to her music. 
With support from Pete Tong, Dave Seaman, Jamie Jones and many more, an album just out and joining the ranks of BPM Artist Agency, 2023 looks to be big for Jadele. 
Thats it for our inspiring female DJ's in the House + Techno scenes.
Despite the progress that has been made in advancing gender equality, there is still much work to be done. Women still face many challenges. We must continue to strive for a world where every woman and girl is empowered and equal.
Sign-up to our mailing list below for the latest electronic music culture and news.  
Discover Our Great Promo and Booking Service for Artists. Let's get started!
Get Key Info in Electronic Music and Our Services: get our weekly mailer