Electronic Music News > 8 Female DnB Artists to Watch in 2023
8 Female DnB Artists to Watch in 2023
Join us in Celebrating International Women's Day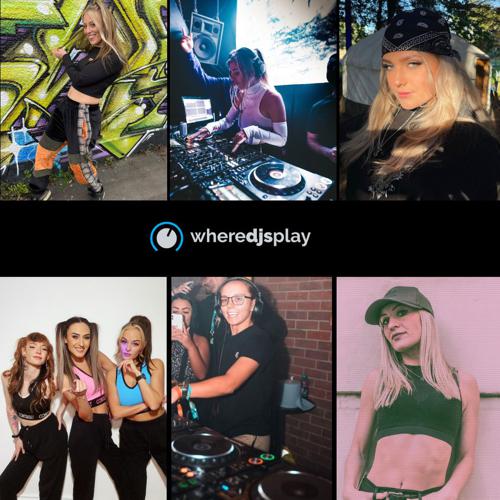 Join us in celebrating International Women's Day.
Today, we recognize the incredible achievements of women throughout history, including those who have broken barriers, shattered stereotypes, and paved the way for future generations. We honor the brave women who have fought for their rights and continue to do so, in the face of adversity. And we also acknowledge the vital role of women in society across the world.
In celebration of International Women's day, we've compiled a list of female DnB artists that are making waves in the scene:
In no particular order, lets go: 
Girls Next Door combines the vocal talents of Mila Falls, MC powerhouse Maddy V,  and Ms Pink dropping heaters on the decks. 
Although separately, they are no strangers to the scene, the new trio are set to shake the scene this year.  
After racking up 1000s of views with their "Kitchen Sessions" live streams, an appearance on Kiss FM and rinsing their debut show, supporting Hedex at The Depo. This year is set to be big for the trio with bookings for Nass confirmed and more. 
If you catch a Girls Next Door show, expect filthy blends from Ms Pink, gripping vocals from Mila and next level bars from Maddy V. The three bring an accumulative energy that is almost unmatched. 
We chatted with Ms Pink, Maddy V and Mila Falls:
"When I first started the kitchen sessions on Facebook I had no idea how far the videos would actually go! The last 3 years has been a madness but the best thing that's come out of it for me is linking up with Mila and Maddy! The minute the 3 of us got together it was like magic and we all knew it, the energy and chemistry is something else and I can't wait to see what the future holds for girls next door!" - Ms Pink
"There needs to be way more females in the game full stop. It's forever growing. I'd really like to see a rise in female mc's as well as the DJ's. More girls! More girls! Haha, And for me and my career, I honestly just love doing it that's it. Watch out for GND X" - Maddy V
"Something really magic happened when I teamed up with Ms Pink and Maddy V. There is like a magnetic force when we perform together. We are riding the same rave frequency. The supporters online and at gigs has blown our minds. The best part of teaming up is that we each bring something different to the table. Most importantly we truly love our new project Girls Next Door. I am really looking forward to how the project unfolds!" - Mila Falls 
Bristol based Esme Banks has been tearing up the underground scene across the country,
With a heavy influence coming from 90's Dancehall, Reggae, and the Jungle scene, through her selection of old school classics and new school bangers, Esme's carefully crafted sets are packed with everything from heavy jungle breaks, bouncy ragga vocals, and deep dark rollers. Combining this with her strong technical mixing skills, she has established herself as a charismatic, high energy DJ.
After some serious sets at venues across the UK and festivals such as, Glastonbury, Boomtown, Nass, Balter and Shambala, Esme has shown she isn't afraid to cross any boundaries and has made her presence prominent across the dancefloor.
Also part of Kitten Club, a multi-genre, all girl DJ collective based in Bristol, Esme is firmly placed to make waves in the scene this year.
Oxford based Katalyst has a reputation for sets that effortlessly combine the full spectrum of DnB, fusing RnB, Garage and Grime influenced beats that mesmerize in the dance. 
Katalyst is no stranger to the scene, with previous bookings at Printworks, Rumble in the Jungle, 180 socieity and many other heavyweight events across the country. But with her selection into the EQ50 mentorship, an initiative that supports women in D&B, and pairs each mentee with a long established label in the scene. plus bookings for Outlook and many more big events, 2023 looks to be huge for Katalyst. 
Katalyst spoke to wheredjsplay.com: 
"I feel very lucky to be an artist during a time where womxn are starting to be recognised and respected. There has always been female artists but this exposure has also inspired so many more people to get involved, which is amazing! I really love seeing the strength we all give each other and the admiration we have for each other too." - Katalyst
Natty Lou has been tearing up festivals and big club stages nationally and internationally this year with her high-octane sets, Boomtown and Printworks to name a few. Not afraid to innovate whilst double dropping tried and tested classics with new skool sounds, her sets are nothing short of inspiring. 
With her debut release already out on DeVice Records: All for you feat. Dolly Rae, her second single coming at the end of April AND a Tomorrowland booking in the diary, Natty Lou is on fire. 
In convo with Natty Lou she said:
"It's so great to be surrounded by many inspirational womxn in the scene right now and womxn supporting each other!" - Natty Lou
South west based Gotham can be found tearing up venues across the area, nationally and internationally. 
Resident DJ at Løw! a weekly DnB night in Plymouth with consistent high profile bookings and a regular in Torquay and across the South West. Gotham has supported the likes of Kanine, Ben snow, Serum, Chase & Status, Phibes, Kelvin 373, Bish, Bou, Devilman, Hybrid Minds, Ed solo, My Nu Leng, Monrroe, Break, Skeptical, Andy C, AC13, Gray, Crossy, K motionz & more.
Gotham's sets are high energy from the start, melding dancefloor, filthy basslines and curveballs that inspire and innovate.
With her first international booking for Spring break, Amsterdam this year and many more big bookings, keep your eye on Gotham. 
We caught up with Gotham and she said:
"It's great to see so many females smashing up the drum and bass scene! I'm gassed to be apart of the culture" - Gotham
Bristol Based Ivy is pushing the boundaries of the scene with her innovative productions and sets across the country.
With a residency at Bristol's Lakota and previous shows for big labels across the scene, Ivy has already made a huge impact in the scene. After being selected to be part of Hospital Records Mentorship Programme this year, and a recent release on DJ Hybrid's label Deep in the Jungle Records, we expect this upward trajectory to continue. 
We had a chat with Ivy:
"The drum and bass scene has come so far in terms of diversity, there are so many womxn smashing it at the moment! There is still a long way to go though so fingers crossed we can keep progressing!" - Ivy
Thats it for our selections.
Despite the progress that has been made in advancing gender equality, there is still much work to be done. Women still face many challenges. We must continue to strive for a world where every woman and girl is empowered and equal.
Sign-up to our mailing list below for the latest electronic music culture and news. 
Discover Our Great Promo and Booking Service for Artists. Let's get started!
Get Key Info in Electronic Music and Our Services: get our weekly mailer