Electronic Music News > Dan Samsa Returns to the Stage with Immersive Live Show of his Debut Album
Dan Samsa Returns to the Stage with Immersive Live Show of his Debut Album
Immersive Live Show for Dan Samsa Album Debut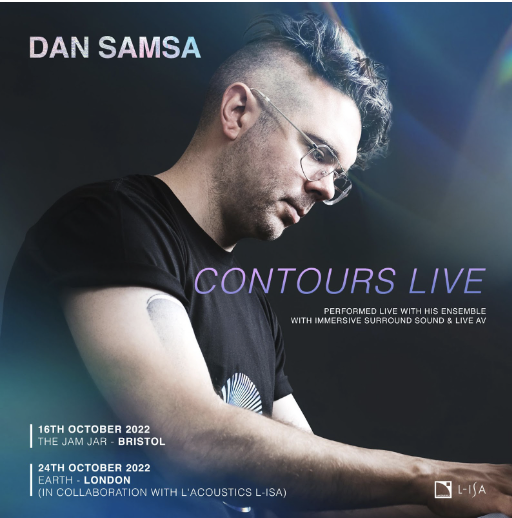 Emerging from the cultural melting pot of South London, Dan Samsa has spent his career at the intersections of genres and mediums and is fast becoming known for his pioneering use of immersive technologies and unique spatial sound experiences. Two of his recent projects reflect this recognition: a commission by Philip Glass reimagining a selection of the composer's works for his 85th birthday; and a series of boundary-breaking immersive sound events in collaboration with industry-leading studio speaker brand Genelec. 
In October, Dan Samsa will return with two live immersive performances of his debut album Contours.  He will also release the Ambisonic-mixed (offering playback in three dimensional 360° audio) full album as an online 360° audio-visual metaverse experience. The shows will take place at Bristol's Jam Jar (16th October) & London's EartH Theatre (24th of October) with his full live band, surround-sound textures and bespoke visuals. 
This is how Dan intended his innovative debut album to be experienced, as he blends classical, techno, jungle and jazz and his groundbreaking 360° sound textures into a powerful, genre-defying exploration. Excitement has already been building, with Contours receiving radio support from Gilles Peterson on BBC Radio 6 and Jay Phelps on Jazz FM.  
Both live shows will feature technology designed by L-Acoustics. Dan's recording techniques make for a world first where we'll experience his tapestry of 360° microphone textures and live orchestrated 12-part experimental jazz material, specifically composed for spatial audio and presented in L-Acoustics L-ISA technology, permanently installed at EartH. L-ISA immersive offers artists the ability to share their creations dynamically in an ultra-high resolution soundscape which invites the audience to connect more deeply with the music. The L-ISA spatial audio technology at EartH will be specially replicated for the JamJar show in Bristol.
This hybrid performance is designed to push technology, live performance & modern music into completely new spheres.  The first show at The Jam Jar Bristol, will also be an all dayer, with support from young forward thinking Bristol based electronic music label and arts collective Intrinzic Music.
His Contours live band features some of the UK's most established musicians; UK Jazz bubbler Jay Phelps (Worldwide FM, Jazz FM), the 2016 UK Young Drummer of The Year Tom Potter, free Jazz/experimental trumpeter Charlotte Keeffe and long term collaborator Rosie Strobel will join Dan performing his virtuosic piano parts.
With support from a legend within the electronic music world Christopher Jarman (Raiden, Kamikaze Space Programme, Dot Product). Jarman's music by and large is made up of foley sound design and sonic experimentation using bespoke apparatus and homemade microphones. Tvoya-new female duo who pull together captivating dreamy soundscapes and electronic beats using live vocals, keys, viola and fx and London based Artist, DJ and Producer Sweetestcape (pronounced 'SWEET ESCAPE'). Known for his alluring blend of House, Soul, Broken Beat, Deep House, Deep Tech, and Groove infused live sets.
This will be a very special one off, not-to-be-missed experience where Dan Samsa will showcase his recent groundbreaking work in immersive sound and showcasing some of the UK's finest Jazz and electronic music artists. 
RELATED ARTISTS
There's no related artist tag.
Discover Our Great Promo and Booking Service for Artists. Let's get started!
Get Key Info in Electronic Music and Our Services: get our weekly mailer