Electronic Music News > Turn It Up: Unleashing AI Melodies at London's Science Museum
Turn It Up: Unleashing AI Melodies at London's Science Museum
Ignite your inner composer with the power of art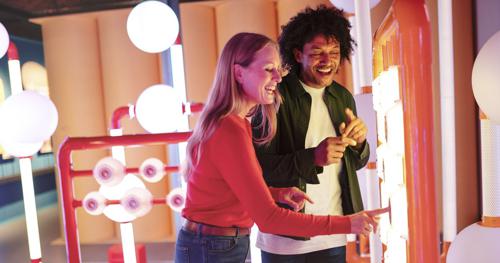 Get ready to dive headfirst into a mind-blowing sonic adventure at the legendary Science Museum of London, where the ultimate auditory extravaganza, Turn It Up: The Power of Music, is about to drop. From October 19, 2023, to May 6, 2024, this mind-bending symphonic spectacle will sweep you off your feet and transport you to a realm where beats, melodies, and technology collide in an explosive fusion.
Step into the spotlight and prepare for a musical journey that's not just about skillful playing – it's a full-blown experience that tugs at your heartstrings and ignites a storm of creativity in your mind. No matter what genre makes your soul dance, this exhibition is a one-way ticket to a world where melodies rule and emotions run wild.
Picture this: you're on a sonic adventure through time, surrounded by the stories of legends like Elton John and the enchanting singer-songwriter Anne-Marie. But it's not just about hearing their tales – it's about feeling the music in your bones and understanding how it shapes our very existence. Interactive installations and mind-bending gadgets will blow your mind, as you dive deep into the mesmerizing web of music's influence on our minds, hearts, and well-being.
Hold tight as the rhythm of time guides you through an unprecedented experience. Turn It Up doesn't just keep it real in the present – it pushes the boundaries of music creation into the future. Imagine a symphony where artificial intelligence (AI) jams alongside the latest tech innovations, paving the way for a new era of musical expression that knows no bounds.
Leading this epic voyage is the maestro of the moment, Steven Leech, who's all about revealing the universal power of music. "We are excited to bring Turn It Up to London and bring to life the mystery of music and the incredible ways that it impacts all aspects of our lives," Leech proclaims, reminding us that the art of making music is a gift meant for everyone to unwrap.
Right at the heart of the action, the Musical Playground beckons – an auditory wonderland where rhythm, melody, and harmony collide, calling out to both newcomers and seasoned pros. Think of it as a playground of sound, where you can experiment with Musical Building Blocks that are like melodic LEGO pieces, letting you create a symphonic masterpiece that's uniquely you.
When the spotlight shifts to the stage of musical treasures, prepare to be dazzled by artifacts that bridge generations of musical evolution. Among them, the MiMU gloves radiate, bewitching tech-wear donned by luminaries like Ariana Grande and Kris Halpin. These gloves wield digital magic, conjuring electronic symphonies with the flick of a wrist and blurring the lines between artist and instrument.
But the show's not over yet – the Robo-recorder steps up, a testament to human resilience and innovation. Crafted by musician Liza Bec, this ingenious creation overcomes the odds, using MIDI technology to create music and triumphing over the challenges of a rare epilepsy condition with unyielding spirit.
And then, brace yourself for the AI takeover as Haille, the AI virtuoso from Georgia Institute of Technology, steps onto the stage, seamlessly jamming alongside human musicians. It's a mind-bending display of human creativity merging with cutting-edge technology, pushing the boundaries of what's possible. And don't miss Headspace, the virtual instrument brought to life by Rolf Gelhar and Clarence Adoo. This musical marvel responds to your every head movement and breath, proving that nothing can hold back the power of human determination.
Dr. Emily Scott Dearing, the Guest Curator, adds her own touch to the mix, emphasizing the all-encompassing and awe-inspiring force of music. "Music is woven into the fabric of our lives, a force that's both ordinary and extraordinary," she shares, inviting you to lose yourself in this sensory symphony, to dance to the rhythm of life, and emerge with a symphony of new melodies in your heart.
Ready for your golden ticket to sonic paradise? It's yours for as little as £10, unlocking a gateway to a world where each note takes you on a journey through time and the human experience. Turn It Up: The Power of Music invites the curious and the passionate to join the ranks, ready to unlock their inner harmonies and dive headfirst into the crescendo of self-discovery. Don't miss out – Grab your ticket here and let the melodies of the past and future collide in an epic explosion of sound and spirit. Let's groove!
Address: Science Museum, Exhibition Road, South Kensington, London, SW7 2D
For more updates on Turn It Up, Follow:
Science Museum Turn It Up Official Website
Check out DJLink.me :- The ultimate link-in-bio solution for Artists and DJs. Let's get started!
Get our updated bi-weekly DJ news mailer!