Electronic Music News > Annie Mac To Launch a 7 To 12 Club !!
Annie Mac To Launch a 7 To 12 Club !!
Clubbing 'Before Midnight' has arrived !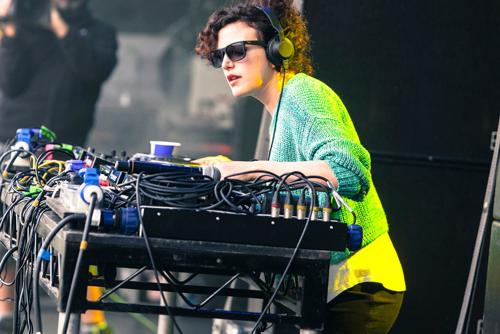 Discover her radio playlist on Spotify
Annie Mac's new nightclub, Before Midnight, is an idea that brings clubbing and raves to people who cannot compromise their college and work while staying up from 12-5 am. The club adds life to a growing number of people, especially to the ones who have left their rave days to settle for comfy family nights after hitting 30, finding their nocturnal owl personality to be impractical in their new routines; and to young people who are 'Cinderellas' and need to be back home by midnight.
Discussing her vision, Annie Mac said, "I can't tell you how excited I am about this. I know there's an appetite for it because I've had so many messages from you who've grown up with me and listened to me on the radio, every Friday night, who adore the clubbing experience but don't want to wait until 1 am to see me play, who need to be sharp and useful at the weekends and just can't afford sleepless nights."
Mac further highlighted the dynamics of her club saying, "Everything about it is the same as a typical nightclub except for the time it starts and the time it ends. Nightclubs in the UK open what, 10, 11 pm, end 3, 4, 5 am." Before Midnight will run parties from 7 pm to 12 am.
Clubs for the 'Above 30 years and still young' age group are not new to the music world. The Posh Club hosts senior adults in 5 different locations in the UK, re-inventing clubbing activities in a 40s style. There are Soul Train Disco in Liverpool for people over 25, Haven't Stopped Dancing Yet (HSDY) in Islington, Phonox in Brighton, Fabric London, and Rumba in London that host the elder class in their parties. What sets 'Before Midnight' apart is that it sets its timings to a more customer-centric zone as an additional level- ahead of setting the theme and age group in the club.
Annie Macmanus aka Annie Mac, 43, is an Irish DJ, broadcaster and writer who has hosted a variety of shows on BBC Radio 1, a role she left after 17 years last year to take on her ventures. She is widely regarded by music fans as Europe's biggest female DJ.
She will be ramping up her levels, performing for 4 hours straight in her shows at 'Before Midnight' to showcase her skills. Expressing her excitement in the booking call, Mac says. "Before Midnight is a chance for me to play long DJ sets with all my favourite records, those ones that spark joy, and a chance for you to have all the fun, the euphoria and the wild abandon you need and STILL get a good night's sleep. Come and dance with me. Lights on at midnight. Then we all run home and fall asleep like little happy Cinderellas. xx"
Pre-sales start on the 7th and General tickets will be up by the 9th of April. The opening night takes place at London's Islington Assembly Hall on Friday, May 20, where Mac teams up with DJ Melle Brown. So don't miss out on your chance and grab your passes now here!
Follow her on her socials to stay tuned:
Instagram - https://www.instagram.com/anniemacmanus/
Spotify - https://open.spotify.com/artist/41DZ1or3s4tphMQnLC5RNk
Apple Music - https://music.apple.com/us/artist/annie-mac/1043413763
Twitter - https://twitter.com/anniemacmanus
RELATED ARTISTS
Discover Our Great Promo and Booking Service for Artists. Let's get started!
Get Key Info in Electronic Music and Our Services: get our weekly mailer