Electronic Music News > Arcadia Music Festival Sets Eyes On FIFA World Cup: Qatar 2022
Arcadia Music Festival Sets Eyes On FIFA World Cup: Qatar 2022
The Electronic Music Event Tours Middle East For The First Time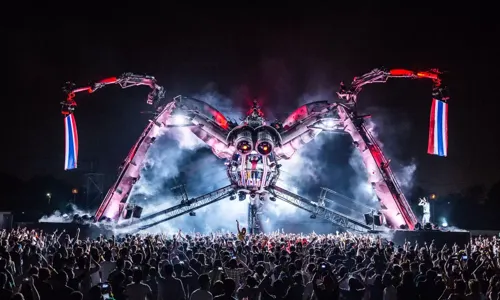 With the recent announcement of the Arcadia Music Festival, this year's FIFA World Cup in Qatar is all poised to go all out on delivering entertainment to fans. A joint addition from the Alchemy Project Entertainment and Supreme Committee for Delivery & Legacy (SC), the multi-stage event promises 100 international and 50 local acts to perform on 3 iconic stages, all the way from 19th November to 18th December 2022.
The music festival will be a groundbreaking event in the Middle East for Arcadia, marking its first performance in the region. The venue for the festival is the 'Ras Bu Fontas', in front of the Ras Bu Fontas metro station in Doha, Qatar.
"We are profoundly excited to bring this unique and extraordinary experience to Qatar and the region for the very first time and take it to the next level. The level of entertainment in the upcoming period in Qatar will be unlike anything anyone has ever seen in any previous mega-event." – Mac. s. Far, CEO Alchemy Project
Arcadia's signature 50-tonne 'Spider' will spew balls of flame into the sky at the first stage, the 'Reactor' of lasers and pyrotechnics will mesmerize fans at the second stage, and the third stage, 'Curve', will give fans 360 views of the ongoing matches that shall blend with music and dance. The sets can cater to crowds up to 25000 in number, and the stages infuse metal structures, repurposed artillery and weapons, and interactive environments.
"The Spider (stage one) is a phenomenally impressive asset that gives all audiences goosebumps; the Reactor (stage two) is an intimate and extraordinary stage that engages fans in a whirlpool of quality music and ever-lasting memories and the Curve (stage three) is a mixture of the live and interactive stage where guests watch the broadcast of the games and dance to live music in between the matches. Overall, the line-up of artists performing in Arcadia will be as impressive as the structures themselves." – Mac. s. Far, CEO Alchemy Project
The complete lineup, ticket prices, and event timelines are yet to be revealed.
Arcadia Spectacular was founded by engineers Bert Cole and Pip Rush to unite people for positive change (repurposing old military equipment for music and entertainment), and the event debuted at the Glastonbury Festival in 2007 before turning into a global festival itself.
FIFA World Cup Qatar has also arranged the FIFA Fan Festival, and other music events by MDL Beasts to make the biggest sports event in the world an unrivaled entertainment package.
Follow ARCADIA and FIFA World Cup Qatar 2022 to stay updated:
Arcadia Official Website - https://www.arcadiaspectacular.com/events
FIFA World Cup Qatar 2022 - https://www.fifa.com/fifaplus/en/tournaments/mens/worldcup/qatar2022
Instagram - https://www.instagram.com/arcadia/
Facebook - https://www.facebook.com/Arcadia/
Twitter - https://twitter.com/A_rcadia
RELATED ARTISTS
There's no related artist tag.
Discover Our Great Promo and Booking Service for Artists. Let's get started!
Get Key Info in Electronic Music and Our Services: get our weekly mailer