Electronic Music News > Burning Man 2023: ANIMALIA Unleashes Chaos and Celebrities in the Desert
Burning Man 2023: ANIMALIA Unleashes Chaos and Celebrities in the Desert
Highlights: People, art, music, nature, rain, mud, and rainbows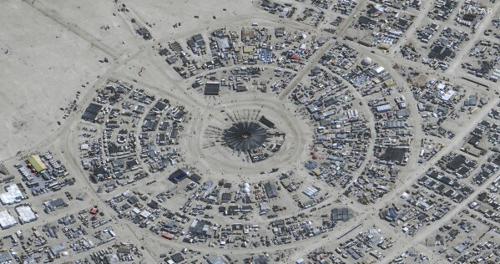 In the heart of Nevada's Black Rock Desert, where the surreal meets the sublime, Burning Man 2023 unfolded in all its glory. A temporary utopia, Black Rock City, came alive once again for an electrifying week of art, music, and unparalleled self-expression. This year's theme, "ANIMALIA," invited Burners to embrace their inner creatures, and what ensued was nothing short of epic
With dates spanning from August 27th to September 4th, 2023, Burning Man welcomed a record-breaking number of attendees, with over 70,000 souls making the journey to the desert. The allure of ANIMALIA, with its promise of tapping into primal instincts and unbridled creativity, proved irresistible.
Diplo: The Maestro of the Playa
When the beats drop at Burning Man, magic happens, and this year, the desert reverberated with the infectious rhythms of Diplo. The renowned music producer and DJ took center stage, casting a spell with his genre-defying sounds and magnetic energy. Diplo's performance was nothing short of a sonic safari, taking Burners on a journey through the wildest sonic landscapes.
In an Instagram post that captured the essence of his Burning Man experience, Diplo shared,
"Legit walked the side of the road for hours with my thumb out cuz I have a show in DC tonight and didn't want to let y'all down."
 It's a testament to the artist's unwavering commitment to his fans, even when faced with unexpected challenges.
Stars in the Dust: Kimbal Musk and More
But Burning Man is not just about the music; it's about unexpected encounters and communal experiences. Among the notable attendees was Kimbal Musk, the brother of tech visionary Elon Musk. His presence added an extra layer of intrigue to the desert gathering, highlighting the festival's allure among business elites and adventurers alike.
Kimbal wasn't the only celebrity drawn to the Burn. Tech entrepreneur Brock Pierce made a prominent appearance, showcasing the event's ability to transcend industry boundaries. At Burning Man, everyone is on equal footing, united by a shared sense of wonder and a spirit of radical self-expression.
Beyond the Beats: Music Camps on the Playa
It's essential to dispel a common misconception about Burning Man: it's not your typical music festival. Unlike traditional music festivals centered around live performances, Burning Man's central focus lies in the realms of art, self-expression, and communal engagement. Despite the absence of an official musical lineup issued by Burning Man itself, several camps across the playa independently curate their lineups, offering a diverse selection for Burners.
Playground: A non-profit organization dedicated to celebrating diversity through sonic landscapes. Playground featured sets by Carl Cox, a special back-to-back performance by Charlotte di Witter and Enrico Sangiuliano, as well as Vintage Culture, Azzecca, Sharam, and more.
Camp Questionmark: Based in the Bay Area, this non-profit camp specializes in promoting various forms of bass music. Their lineup boasted artists such as What So Not, Mr. Carmack, Louis the Child, and Maddy O'Neal, promising beats and bass aplenty.
Looners Camp: Offering a unique experience, attendees took to the skies in a hot air balloon while enjoying music from artists like Diplo, Manumat, Goldcap, Deer Jade, and Avi Snow.
The Fluffy Cloud: A large-scale sound camp that merged a colossal cloud-like art installation with a fully-fledged festival performance stage. DJs like LP Giobbi, Diplo, Darin Epsilon, Moblack, and Rinzen created a 360-degree sound and light experience.
Titanic's End: Advocating for ocean protection, Titanic's End presented a colossal interactive iceberg stage. Here, you could catch artists like Sacha Robotti, Crsto, Slander, Diplo, Hovr, and more.
Each of these camps offered a unique musical experience amidst the larger canvas of Burning Man's artistic and communal offerings.
The Muddy Saga: A Diplo Escape Story
But not everything in the desert unfolds as planned. This year, Black Rock City faced an unexpected twist in the form of uncharacteristic rain, transforming the dusty playa into a muddy quagmire. As attendees navigated the slippery terrain, even headliner Diplo found himself facing the challenges of Mother Nature.
In an interview with CNN, Diplo shared his epic escape story, which saw him teaming up with fellow festivalgoers, including actor Austin Butler, his girlfriend, model Kaia Gerber, and Gerber's mother, supermodel Cindy Crawford. Together, they embarked on a mission to navigate the treacherous mud and seek refuge from the rain-soaked playa.
"It was a challenge, but honestly one of the highlights of the whole trip was getting out there and enjoying the time out there and seeing the desert, walking through the mud and meeting fans," 
The rains brought an unexpected twist to this year's Burning Man, testing the resilience and adaptability of the Burners. Yet, in the true spirit of the event, participants came together to help one another, turning adversity into an opportunity for camaraderie and shared adventure. Diplo, ever the trooper, managed to escape the muddy entanglement and continued to deliver an unforgettable performance that will be remembered for years to come. He later shared a video on Twitter to immortalize the adventure.
Burning Man 2023: ANIMALIA was a chaotic and unforgettable journey, where music, art, and self-expression collided in the dust of the Black Rock Desert. Until the Man burns again, let the memories of this year's Burn inspire your creativity and sense of adventure.
Follow Burning Man for more:
RELATED ARTISTS
Check out DJLink.me :- The ultimate link-in-bio solution for Artists and DJs. Let's get started!
Get our updated bi-weekly DJ news mailer!