Electronic Music News > Burning Man Returns to Black Rock City After 3 Years
Burning Man Returns to Black Rock City After 3 Years
The iconic event had seen back-to-back cancellations due to Covid but not anymore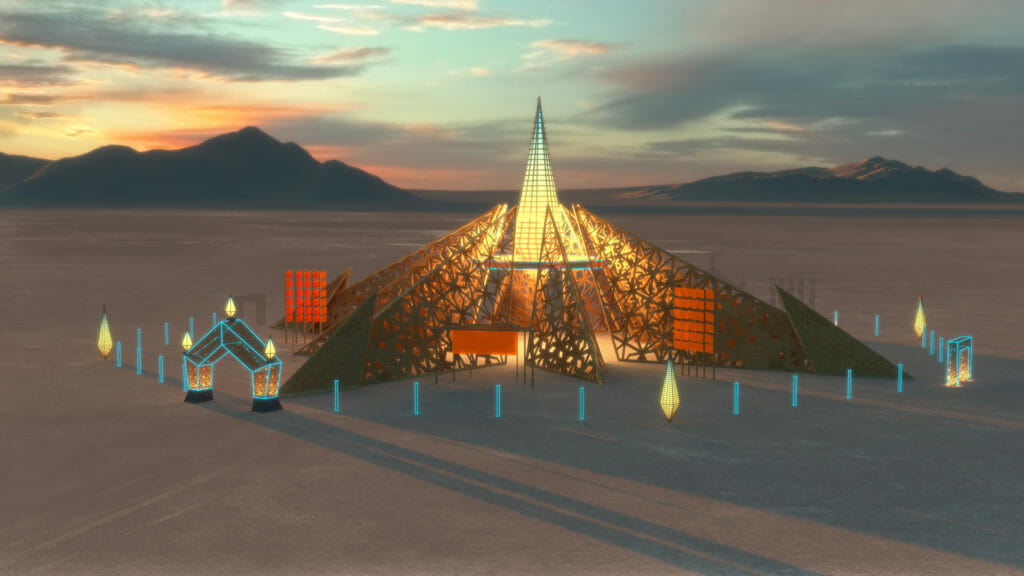 Life poured back into the Black Rock City on 28th August this week as the much-awaited Burning Man festival returned to people after three long years. This year around, the event has a 'Waking Dreams' theme, and it is reported that over 80,000+ have headed to Nevada to spend the week at BRC from 28th of August till the 5th of September 2022.
"The 2022 Burning Man theme will explore the transformative power of dreams, both literal and figurative, and celebrate the dreamers who channel this potent energy in eye-opening, often surrealistic, sometimes life-changing ways. Because after all what is Black Rock City if not a collective manifestation of the community's dreams?" – Burning Man Organization
The Burning Man is a festival created to deliver a vision, a platform for self-expression, a new culture, artistic adventures, and a whole different experience to Burners. Just as in every Burning Man edition, this year's art installations perfectly portray a dream world in line with the 'Waking Dreams' theme and mesmerised attendees and fans alike. There was a 'Paradisium' of interactive geometric trees designed by Dave Keane and Folly builders; a 'GAIA' giant woman sculpture by Marco Cochrane and Julia Whitelaw that was created with the aid of $16000 fundraiser donations; 'Point of View' geometric light sculptures with Ukrainian embroidery patterns by HYBYCOZO; and a 'Circle of Doors Tarot' building by Anne Stavely and Jill Sutherland – having 22 doors that lead to mystic books which reveal more about the person's chosen cards, and the building has other characters inside too.
While the list goes on to include countless fantasy statues and figures of butterflies and alien crafts – there are two main features that cannot go unseen. The 'Empyrean Temple' of 2022, and 'The Man' effigy that has been a cultural element of every annual edition of the fest. The temple exhibits artistic architecture that is a blend and balance of both historical and futuristic elements and was made by donations taken up by the designer Renzo Verbeck on Empyrean's site.
"Empyrean represents the region just beyond our physical realm that is the highest center of wisdom, and the source of energy-consciousness…"    
'The Man' effigy is charged up in neon green and towers above the crowds – waiting to be set on fire on Saturday night September 4. The live countdown before history repeats can be viewed here.
That is not all, for Opulent Temple brings back their electronic music camp and has revealed a huge lineup of performances for the week. The main highlights include DJ Carl Cox, Infected Mushroom, John Summit, Spencer Brown, Above & Beyond, Gabriel and Dresden etc. The complete lineup can be viewed here at Opulent Temple. To double up the fun, PLAYGROUND has set up two stages this year – The Arrival Stage and Dune Lounge, with an equally charged schedule. Charlotte de Witte, Enrico Sangiuliano, Lee Foss, Yulia Niko, Monolink, and BLOND:ISH will headline Arrival, while DJ Carl Cox, Apache, Sabo and others take over the Dune Lounge. Click here to view the complete lineup by PLAYGROUND.
The last time people saw Burning Man was back in 2019 from 25th August to the 2nd of September and fans were already excited for next year's edition. However, Covid-19 restrictions forced the organisers to cancel the event in 2020 and to hold a virtual one in 2021. While some burners did visit BRC in both cancelled years, the festival could only go official formally this year as the Covid condition has relaxed globally.
Click here to discover more on the event as it proceeds.
Follow Burning Man for more:
Official Burning Man Website - https://burningman.org/
Instagram - https://www.instagram.com/burningman/
Facebook - https://www.facebook.com/burningman
Twitter - https://twitter.com/burningman
RELATED ARTISTS
Discover Our Great Promo and Booking Service for Artists. Let's get started!
Get Key Info in Electronic Music and Our Services: get our weekly mailer