Electronic Music News > Carl Cox Unleashes a Virtual Extravaganza in the Sensorium Galaxy
Carl Cox Unleashes a Virtual Extravaganza in the Sensorium Galaxy
Explore dimensions with Coxy 2.0's mesmerizing 30-minute set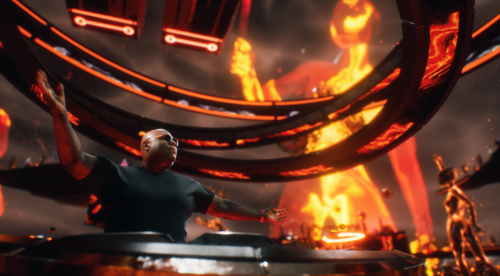 In a groundbreaking move, the legendary Carl Cox has delved into the uncharted territories of the Sensorium Galaxy, captivating audiences worldwide with his virtual performance, Intermundium. The event, which took place on Friday, October 27, saw the iconic Coxy 2.0 avatar mesmerizing viewers in both 2D and VR dimensions, drawing in an impressive one million fans during the opening weekend. Watch a teaser of Coxy 2.0's performance here on Instagram.
Intermundium, aptly named after the space between dimensions, featured futuristic structures and the enchanting world of PRISM, responding harmoniously to the pulsating beats of Cox's hybrid live show music. Sensorium Galaxy, employing cutting-edge technology, showcased the performance through 2D streaming, VR-360, and full-fledged VR formats, pushing the boundaries of virtual entertainment.
Reflecting on the project, Carl Cox expressed, "The journey into Sensorium Galaxy with my Intermundium show was surreal at times." 
He highlighted the thrill of witnessing his Coxy 2.0 avatar react in real-time to his music while marveling at the technological advancements synchronizing the virtual environment with the beats.
"It means the space between worlds," he explained, referring to the show's title - Intermundium.
Sasha Tityanko, Deputy CEO and Art Director at Sensorium, shared, "Into this new digital realm, creative possibilities appear endless, and the digital sky is the only limit. That is just the beginning of our journey."
At a special industry preview in London hosted by his manager, Alon Shulman, attendees were granted an exclusive glimpse into Coxy 2.0 in the metaverse, preparing for his real-world live show in Central Park, New York.
Shulman praised Carl Cox's pioneering spirit, stating, "Carl has always been someone who is known for pushing the whole electronic music industry forward. He's known as a pioneer and someone who does things first and that spirit never stops."
Shulman emphasized the decision to make the show free in both 2D and VR, breaking down barriers and inviting as many 'explorers' as possible to join the digital revolution.
As he noted, "The scene has come a long way since the days of a couple of record boxes and a warehouse, and clearly, we still have a long and enjoyable journey ahead."
True to form, Carl Cox continues to be at the forefront of innovations, reshaping the way we experience dance music and club culture. Dive into the behind-the-scenes images of the creation of Intermundium and experience the full set with Sensorium Galaxy, as the dance music maestro takes us on a mesmerizing journey into the Sensorium Galaxy.
Follow Carl Cox and Sensorium Galaxy for more updates:
Carl Cox
Official Website Instagram Facebook Spotify X
Sensorium Galaxy
RELATED ARTISTS
Check out DJLink.me :- The ultimate link-in-bio solution for Artists and DJs. Let's get started!
Get our updated bi-weekly DJ news mailer!