Electronic Music News > Charlotte De Witte Reveals Complete Lineup For Kntxt Konnected
Charlotte De Witte Reveals Complete Lineup For Kntxt Konnected
Techno powerhouse has a new concept to throw into the mix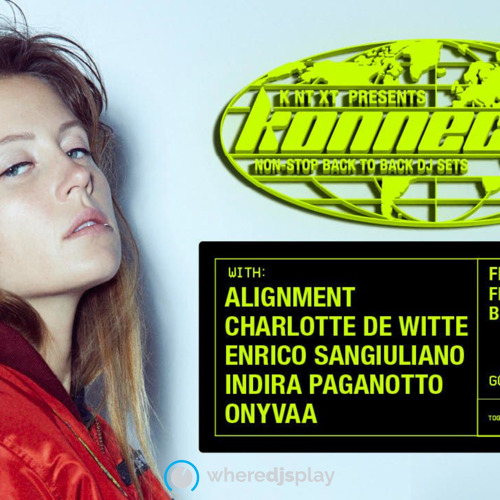 Charlotte De Witte plans to go all out this year with her KNTXT collaborative event – KNTXT Konnected. The Techno DJ will take the stage at Flanders Expo next month on 4th of February in Ghent, Belgium with the added flair of having solo and B2B sets merged to double up on the experience. KNTXT's official Instagram page made the announcement of the new format in a post with the lineup.
"KNTXT Konnected will make the unique crossover between solo sets & exclusive B2B sessions, seamlessly morphing into each other on February 4th."
Meanwhile, the proud label owner and the host, Charlotte De Witte, expressed her excitement in an interview with DJ Mag.
"I'm curious to see how the B2B sets will turn out….I'm not known for doing a lot of B2B sets in the past, but I'm excited to see how the KNTXT Family will mix into each other. There will be a big sense of togetherness and good vibes all around." – Charlotte De Witte to DJMag
The lineup of the event features artists from KNTXT and special guests who will be joining De Witte on the stage. The list includes iconic artists including 4-time KNTXT EP feature star Alignment, De Witte's husband and famous Italian DJ Enrico Sangiuliano, Indira Paganotto who just had a great 2022 with her "Lions Of God" KNTXT EP hitting No.1 on Beatport Global, and ONYVAA who just received the "Best Newcomer" title at the DJ awards in Ibiza.
Hosting big stages isn't new to the Techno talent, with De Witte being the first female techno headliner at Tomorrowland last year. She also climbed up 9 spots to grab the No.1 Techno DJ title by DJ Mag on 27th October, 2022.
Tickets are up for sale on KNTXT's official website here for the regular access category while the VIP Paddock category stands all sold out.
Follow KNTXT and Charlotte De Witte to stay updated for more.
RELATED ARTISTS
Discover Our Great Promo and Booking Service for Artists. Let's get started!
Get Key Info in Electronic Music and Our Services: get our weekly mailer