Electronic Music News > Introducing Chorda: The Portable Synth and Sampler
Introducing Chorda: The Portable Synth and Sampler
Revolutionizing Electronic Music Creation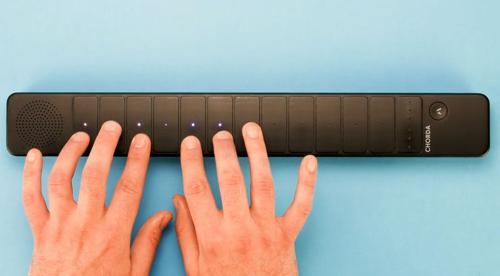 Exciting news has surfaced in the world of electronic music! Meet Chorda, the groundbreaking digital synthesizer and sampler that promises to revolutionize the way musicians create and perform. Recently unveiled on Kickstarter, Chorda boasts a unique design that allows it to be strummed like a guitar, played like a keyboard, or used for finger drumming. Its cordless and portable nature, combined with a built-in speaker and various audio and MIDI connections, make it a versatile tool for both studio integration and on-the-go jamming with friends.
The heart of Chorda's interface lies in its 12 touch-sensitive pads, each as wide as a piano key. These pads respond to velocity and aftertouch, providing expressive control in multiple directions. Moreover, Chorda is equipped with a built-in gyroscope, allowing players to manipulate sounds by tilting the instrument. For an immersive experience, the instrument vibrates, providing haptic feedback that enhances the tactile interaction with the device. These expressive features extend beyond Chorda itself, as it can send MIDI signals to other hardware or software instruments, making it a powerful controller for music production setups.
The synth's sonic capabilities stem from a rich bank of digital presets, and users can easily update these through the Artiphon app. This app also enables sound sampling, allowing musicians to create custom instruments tailored to the key of their tracks. With Chorda's built-in looper, it's a breeze to layer Drum, Bass, Chord, and Lead parts, making it a one-stop solution for crafting entire songs.
Here's a quick rundown of Chorda's impressive features:
Two capacitive-sensing pads offering per-note expression in multiple dimensions, responding even to the lightest touches.
A bridge with six triggers for individual note articulation using familiar gestures like strumming, tapping, and pressing.
Onboard synthesizer and sample engine with a built-in speaker for immediate, standalone playability.
Accelerometer and gyroscope capturing a range of multi-dimensional movements for dynamic sound manipulation.
Integration with the Artiphon app for expanded sound libraries, additional songs, and customizable settings.
MIDI connectivity via Bluetooth or USB-C, with MIDI Polyphonic Expression (MPE) support for enhanced control over synths and music software.
A 1/8" (3.5mm) output for easy monitoring through headphones, speakers, and amps.
Multicolor LEDs responding to your playing style, adding visual flair to your performance.
Embedded haptic engine offering vibration feedback for an immersive playing experience.
USB rechargeable battery with over 4 hours of battery life, ensuring extended jam sessions without interruption.
Artiphon, a reputable Texas-based company, has a history of producing innovative musical instruments, including the palm-top synth and sampler Orba and the versatile MIDI controller INSTRUMENT 1. The Chorda Kickstarter campaign has already been met with overwhelming support, raising nearly €300,000 against its original target of €22,432. This positive reception is no surprise, considering the recent trend of synth concepts on Kickstarter garnering immense funding.
For electronic music enthusiasts eager to get their hands on this game-changing device, Chorda is currently available at the early-bird price of $199 through the Kickstarter page. Artiphon aims to start shipping this musical marvel in November of this year, so mark your calendars and prepare to embark on an exciting new journey of musical creativity with Chorda!
To stay updated on music products and updates, follow up:
Check out DJLink.me :- The ultimate link-in-bio solution for Artists and DJs. Let's get started!
Get our updated bi-weekly DJ news mailer!