Electronic Music News > Dance Music Takes the Arabian Peninsula by Storm
Dance Music Takes the Arabian Peninsula by Storm
The Grand Prix,Chill O'posite Festival  and Sahara Nights, Showcase the Growing Fanbase in the region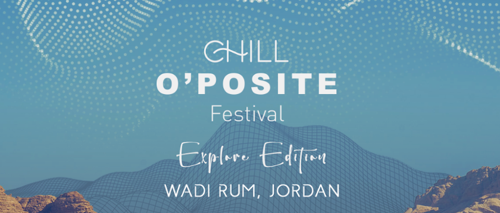 Dance Music Takes the South Mediterranean and Arabian Peninsula by Storm!
In recent years, the Arabian Peninsula has witnessed a significant surge in the popularity of dance music. From the Grand Prix to the Chill O'posite Festival in Jordan and Dahab Egpyt, Sahara Nights in Tunsia and,Carl Cox on the Pyramids, are in the region. demonstrating that it is  now home to some of the most exciting music events on the planet. here's some info on the events;-
Carl Cox at the Pyramids Chill O'posite Festiva and Sahara Nights, showcase the Growing Fanbase in the Middle East region, following on from the success of MDL Beast in Saudi Arabia.
House and Techno icon Carl Cox is set to take the decks at the Great Pyramids of Giza on May 19th for a one-of-a-kind, mind-blowing experience! Announcing the gig on Instagram, Cox exclaimed "MAY 19th, 2023. EGYPT. THE GREAT PYRAMIDS OF GIZA. OH YES!!!!" - and we couldn't be more excited! Joining him for this epic event will be none other than Philipp Straub and Gawdat, delivering a show that's bound to go down in history.
The Great Pyramids, the oldest among the Seven Wonders of the Ancient World, were built thousands of years ago and continue to leave a lasting impression on all those who behold them.
Carl Cox has been making waves in the music industry for years, and last year he dropped his first full-length studio album in over a decade - the incredible 'Electronic Generations', which he produced in just 90 minutes!
The legend has also been focusing more on live sets and hybrid DJ performances, making him an ever-evolving artist who continues to influence and inspire the next generation of DJs. So mark your calendars, folks - this is a show you won't want to miss!
Chill O'posite Music Festival is an annual event that celebrates the unique connection between music, art, and nature. The festivals new edition takes place in Wadi Rum, Jordan, on April 28th-29th, and promises to provide a safe space for music enthusiasts to enjoy groovy sounds and positive energy. Chill O'posite has been bringing together rising talents and well-established artists from all over the Arab and MENA region since 2017, allowing them to showcase their talents and exchange different cultures and music styles. The festival is on a mission to hunt for new and upcoming talents, performers, and art pieces. Info and tickets at  https://chillopositefestival.com/- \
here's some info on the Line Up with some great local and international stars
Flowers on Monday is a DJ/Producer duo from the Black Forest in Germany, made up of two distinct individuals who merged their unique backgrounds and sounds to create something special. Their unique sound has garnered them attention from fans all over the world, and they have performed at various festivals and events such as Fuchsbau Festival, Utopia Island Festival, and the Weinturm Open Air Festival.
Weam Ismail, is a producer who creates eclectic electronic music that incorporates downtempo, Afro-house, and oriental and Arabic sounds. His unique brand of world music defies categorization and is instantly recognizable as his own. His vocals are transcendent, evoking a universal emotional response in his listeners. Some of Weam Ismail's top tracks include "Ya Nahar Ya Gamel," and "Jameelah."
Hot Oasis is a DJ who represents the sound of nature with a strong influence of South Sinai's peaceful spirit. He has released music with Bayati Records, including the track "Sama" featuring Ninka.
Finally, Omerar Nanda is a Turkish DJ and producer who creates music that aims to move your soul and excite your mind. He incorporates deeply emotional melodies and world instruments with a range of tempos in his tracks. His top tracks include "Zindagee Uttar," "Hebele Hubulu," and "Teak.
The Sahara Nights, another micro festival music event in the Saharain in Tunisia , promises to be a spectacular showcase of dance music talent. For the upcoming weekend of April 28th to April 30th, 2023, the Sahara Nights festival will take place in Douz, Tunisia. It is an event that brings together a community of dancers, DJs, artists, creatives, and dreamers to play under the Saharan sun and moon. The festival promises incredible electronic music, amazing wellness and daytime activities, and great food at a remote desert site in the unique location of the Kebili desert. Up to 250 very special people will party, create, and be inspired at the festival. You can find tickets here TICKETS HERE
The festival's lineup includes Trilucid, James Trystan, Jadele, Clifthousen, Mike Koglin, and more.
Heres some info on the Line Up
Trilucid, a British DJ and producer duo, is known for their melodic and progressive style that incorporates elements of trance and techno. They have released several tracks on top labels such as Anjunabeats and Perfecto Records. His top tracks include "One Day at a Time" and "Cheyenne."
James Trystan, a British DJ and producer, is known for his techno and house sets that blend classic and modern sounds. He has released tracks on top labels such as Bedrock and Yoshitoshi. His top tracks include "Vibrations" and "Lupine."
Jadele is a DJ known for her signature sound of broody laced techno and deep melodic house. Her music has emerged as a favorite among DJs and fans alike, including Pete Tong on BBC Radio One, Sasha, Dave Seaman, Jamie Jones, and more.
Clifthousen, a british DJ and producer, is known for his energetic and versatile sets that blend different styles and genres. 
Mike Koglin, a German DJ and producer, is known for his trance and progressive sets that incorporate melodic and uplifting sounds. He has been active in the dance music scene for over two decades and has released numerous tracks on notable labels such as Anjunabeats, Armada Music, and Vandit Records. Some of his top tracks include "The Silence," "Sequential," and "Autumn."
The success of these events and the rise of dance music in the Arabian Peninsula can be attributed to a growing interest in electronic music, as well as efforts to promote cultural exchange and diversity through music. As more local artists emerge and more international artists are invited to perform, it is clear that the dance music scene in the region is only going to continue to grow in popularity and influence.
Social Media Hashtags:
#DanceMusic #ArabianPeninsula #GrandPrix #SaharaNights #ChillOposite #FlowersOnMonday #WeamIsmail #HotOasis #OmerarNanda #Veleyle #Trilucid #JamesTrystan #Danec #Jadele #Clifthousen #EBZ #MikeKoglin #TheEngineerz #DirtyVibes #MusicFestivals #EDM #Trance #ProgressiveHouse #ArabianNights #WadiRum #Jordan #MiddleEast #WorldHeritageSite #Petra #Aqaba #DeadSea #GoldenTriangle #MusicCulture
Check out DJLink.me :- The ultimate link-in-bio solution for Artists and DJs. Let's get started!
Get our updated bi-weekly DJ news mailer!