Electronic Music News > DJ Ken Iishi Live At The Tokyo Red Garden
DJ Ken Iishi Live At The Tokyo Red Garden
Experience High In Japan's Coverage Of The Happo-en Venue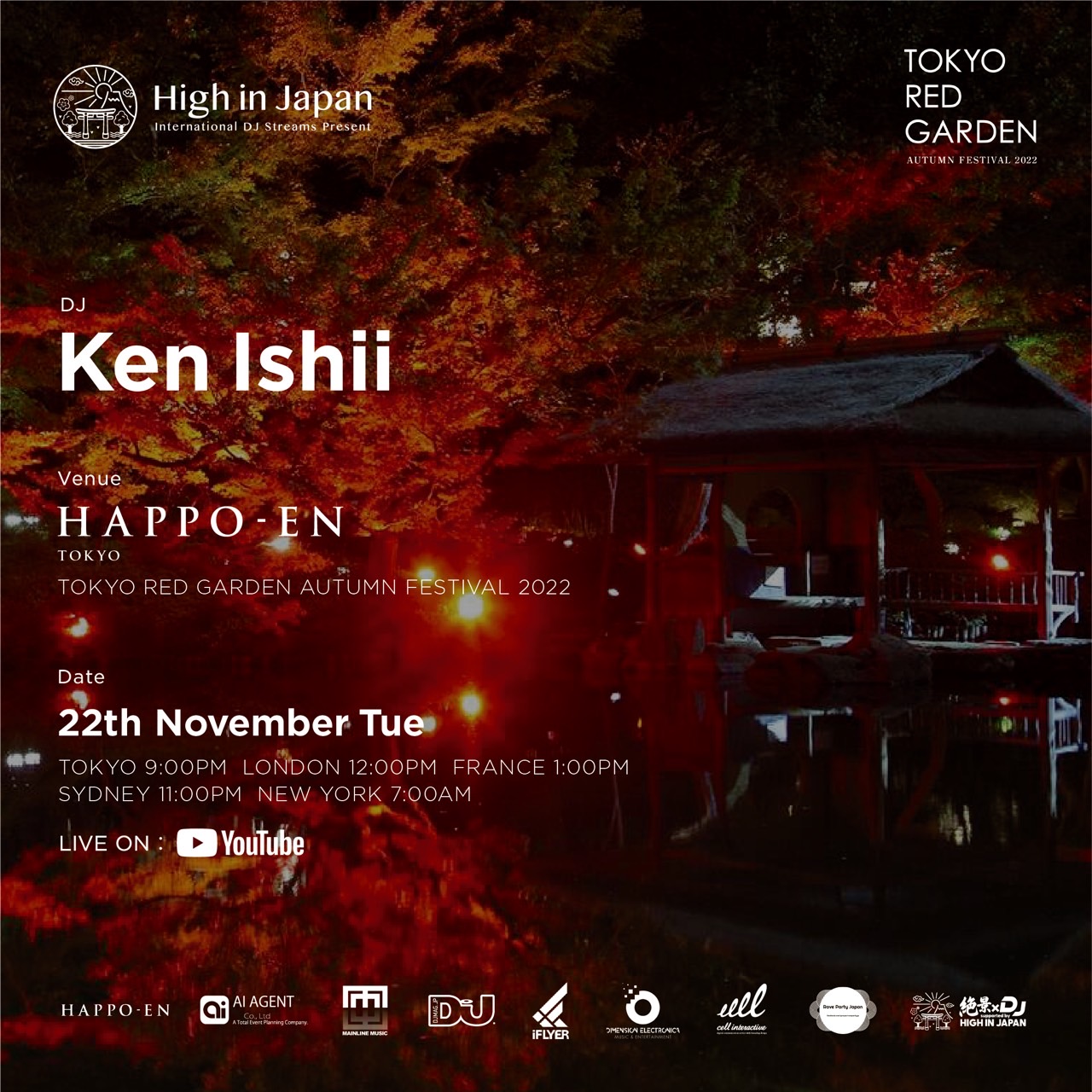 DJ Ken Iishi's exhilarating music performance was aired live from the Happo-en venue in Tokyo this week on the 22nd of November, celebrating the opening week of the Tokyo Red Garden Autumn Festival 2022.
The stream was up on High in Japan's YouTube channel, starting at 9:00 pm Japanese time, which translates to 12:00pm UTC. The channel aired a set of 5 tracks, namely Tonight (original), Liverblow, Rolling (original), Acid Flesh, and Expired (original). The complete archive and album have been recorded and will be uploaded soon during the next month in December. This marks the final recording for High in Japan's annual compilation for the year 2022 and is hence of great importance as the closing album. But fans must not lose heart, for the second episode of 'DJ Supported by High in japan' will be broadcasted on BS12 soon. Click here to listen to the full mix by Ken Iishi.
High in Japan is a well-known Asian channel that delivers videos of Japan's most famous tourist destinations with dance music by DJ play. This time around, it is getting the chance to cover the heart-warming red hues of the happo-en, which is a traditional and spacious garden in Tokyo, dominated by over 100 fiery red momiji maple trees that oversee a massive pond. The venue is frequently visited by tourists during the autumn season when the red foliage covers the horizon, and the whole scenery is lit up at night to showcase the mesmerizing beauty of the place. Hosting musical recordings and events in such venues is a technique High in Japan uses to promote tourism and leisure, and the channel has been doing it since August 2020, when it was founded by AI Agent Co. Ltd to boost the tourism economy post-covid.
"I want to deliver fun and excitement to people around the world who are staying at home," – High in Japan's founder
The channel now posts photography and documentaries, and frequently hosts music festivals and studio recordings.
Follow High in Japan for more:
Happo-en Official Website - TOKYO RED GARDEN TOKYO RED GARDEN 2022| HAPPO-EN
Ken Iishi's Instagram - https://www.instagram.com/_kenishii_/
High in Japan's Instagram - https://www.instagram.com/high_in_japan/
Facebook - https://www.facebook.com/Highinjapan
Twitter - https://twitter.com/JapanHigh
YouTube - https://www.youtube.com/c/Highinjapan
RELATED ARTISTS
Check out DJLink.me :- The ultimate link-in-bio solution for Artists and DJs. Let's get started!
Get our updated bi-weekly DJ news mailer!