Electronic Music News > DJ Outsmarts Police Outside Buckingham Palace While Blasting Beats On His Decks
DJ Outsmarts Police Outside Buckingham Palace While Blasting Beats On His Decks
The Police Could Not State Him The Law Not To DJ Infront Of The Royal Residence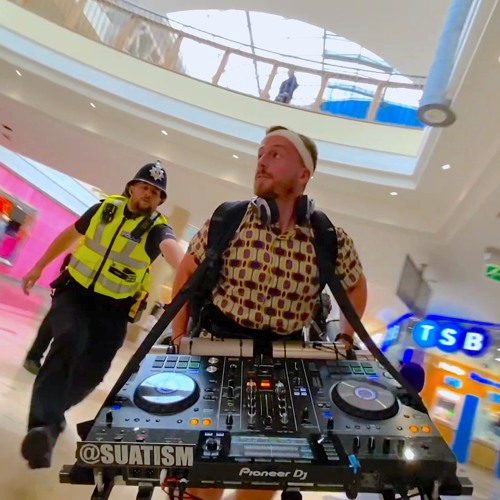 A DJ just did the unimaginable in front of Buckingham Palace and it almost got him into trouble. Yes, DJ Zach Sabri aka SUAT, blasted tunes and beats to set up a public rave in the area right opposite Her Majesty's palace. Anywhere can be a dance floor if you try hard enough. That's the mentality that drives Zach — the roving DJ who brings the rave to the public. But he got encountered by the police when he was performing for the tourists on December 23 in a very sensitive zone. Zach had just finished a three-hour live-streamed sightseeing tour of London and had made Buckingham Palace his final destination.
The on-duty police officer did not turn out to be a fan of his music and asked SUAT to stop the music commotion. An argument ensued when Zach (who was very knowledgeable on public laws and his rights) asked him what was wrong and why was he not allowed to play. The officer was soon joined by 5 of his fellows and the whole group was now in question regarding the laws. They all failed to state exact rulings to Zach as to why he could not film or play since other tourists are allowed to photograph, film, play music on their phones and have all the leisure time without being daunted.
The officers stated that he was in fact, "breaching park regulations", despite not knowing what the exact regulations were. Another police officer claimed the reason he needs to leave is that he was in "a restricted area", but they could not define what was exactly prohibited in a restricted area. The argument lasted around 15 minutes and Zach had the whole incident captured on his phone which he later shared on his TikTok page on April 20th, and the clip has racked up 22 million views in just a week.
This wasn't the first time Zach had faced such an encounter. He brought decks and speakers to the UK Houses of Parliament during a Brexit rally in 2018. The cops were unfazed and shut him down, but the incident had Zach headlining national news. Most of his clips are protest performances, narrow escapes from the police and daring acts. With no legal permits and his determination to never seek one either, his daring acts have nearly landed him in jail several times.
In an interview for Beatportal, he was asked about his recent entanglements with the police, how he handles them and what enables him to win his arguments. Zach responded:
"It usually goes well, quite a few police officers are actually fans. The best strategy is to know the law and explain the purpose — making people smile and uniting music lovers. Often once you mute the speakers they can't give you a reason to not be there. Just be kind and approachable and get ready to run if you have to." 
Realising his talent and love for music, Beatport has teamed up with the DJ to create a new monthly live stream series. Click the link to watch new episodes of LINK UP with SUAT and know more about the DJ that roams in public
Follow DJ SUAT on his socials and watch his fun and daring acts:
Official Website - https://www.suatism.com/
Instagram - https://www.instagram.com/SUATISM/
Facebook - https://www.facebook.com/SUATISM/
TikTok - https://www.tiktok.com/@SUATISM
Twitter - https://twitter.com/SUATISM
RELATED ARTISTS
There's no related artist tag.
Discover Our Great Promo and Booking Service for Artists. Let's get started!
Get Key Info in Electronic Music and Our Services: get our weekly mailer