Electronic Music News > Extreme Stunt DJ SUAT Is Now Skydiving Indoor
Extreme Stunt DJ SUAT Is Now Skydiving Indoor
Known For His Crazy Antics, DJ SUAT Has Set His Decks In The Air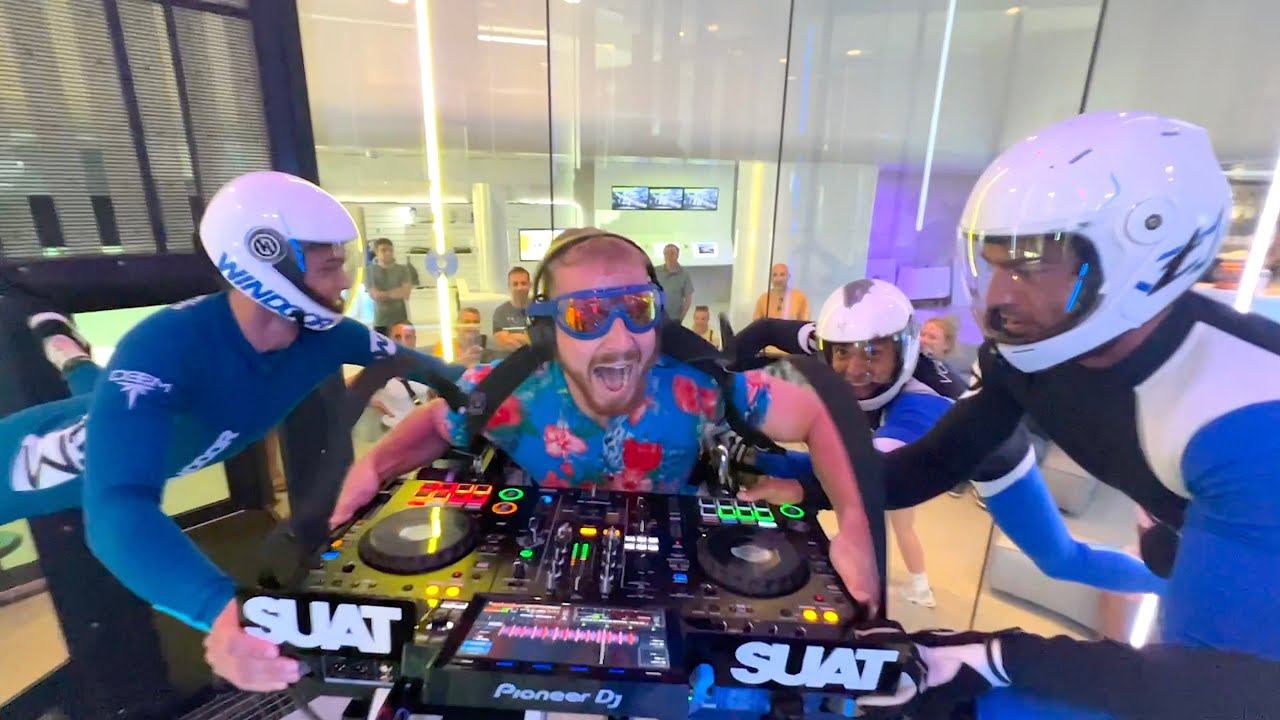 DJ Zach Sabri aka SUAT, seems to have found a new, crazy way to stun fans – and this time he has taken action indoors to play music on his decks while skydiving in a wind tunnel. SUAT had been preparing and practicing the stunt for the past 7 weeks at Windoor Realfly, Barcelona, and had shared the journey on his Instagram highlights.
In the short clip shared on TikTok, SUAT can be seen levitating off the ground with his decks and pianos strapped onto his back, while he plays beats and creates mixes on the go. A team of supporters, fans, and crew can be seen participating in the clip, jamming to the music while wrapping around him in a circle to help him stay stable.
Most of his clips are protest performances, pranks on the police, and similar daredevil acts. His motivation is to stand out from the mainstream and to perform in exotic places doing exotic acts.
"I am on a journey to change the electronic music and DJ spaces. I want to become the world's first extreme DJ athlete. you may have seen me in a cave, a kayak, or getting arrested by police - all for the love of DJing, but now I am here to change the game forever." – DJ SUAT
DJ SUAT became an internet sensation when he brought decks and speakers to the UK Houses of Parliament during a Brexit rally in 2018. The police shut him down on duty, but his courageous display was enough to skyrocket Zach to stardom. In another witty act last December, SUAT was questioned by the police when he played his decks to set up a public rave in the area right opposite Her Majesty's palace. His strong mentality and preparation allowed him to state the law back at the officers and evade arrest. He then shared the recording of the incident on his TikTok page on April 20th, and the clip racked up 22 million views in just a week.
SUAT continues to embark on his SUATISM movement and promises to dare bigger.
Follow DJ SUAT on his socials and watch his fun and daring acts:
Official Website - https://www.suatism.com/
Instagram - https://www.instagram.com/SUATISM/
Facebook - https://www.facebook.com/SUATISM/
TikTok - https://www.tiktok.com/@SUATISM
Twitter - https://twitter.com/SUATISM
RELATED ARTISTS
There's no related artist tag.
Discover Our Great Promo and Booking Service for Artists. Let's get started!
Get Key Info in Electronic Music and Our Services: get our weekly mailer