Electronic Music News > DJ Ferry Corsten Gets Knighted By Dutch King
DJ Ferry Corsten Gets Knighted By Dutch King
Corsten Follows Tiesto And Armin Van Buuren To Become Netherlands' 3rd Knighted DJ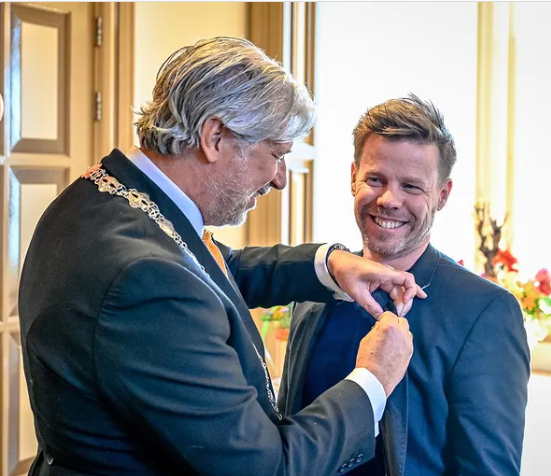 Renowned Dutch producer, DJ and live performer Ferry Corsten has been knighted by King Willem-Alexander of the Netherlands for his contribution to Dutch music.
Peter Oskam, the mayor of Capelle aan den IJssel, inducted Ferry as an Officer in the Order of Oranje-Nassau during a surprise ceremony in the city on behalf of the king. Corsten was not told about the ceremony.
"I was not expecting this at all. I'm still a little in shock. To keep me off the scent of this award, my wife Lia told me we would view a venue to redo our wedding vows. So, you can imagine my surprise. When I discovered I was being appointed Officer in the Order of Oranje-Nassau by the Dutch Royal family no less!"
The DJ expressed gratitude and pride over the achievement on his Instagram and thanked his father who made it possible by starting off the idea and getting all the arrangements with the officials made.
"I'm absolutely speechless and especially moved that my dad has initiated this, with overwhelming support from the music industry."
With the knighting becoming official, Corsten has joined the golden list as the third DJ knighted in the Netherlands for their contributions to the electronic music industry, following Tiësto in 2003, and Armin Van Buuren in 2011.
Corsten believes this wouldn't have been possible without the immense support of his friends, family and his fans that believed in him and celebrated his music and success.
"Thanks to everyone who has supported me over the years and have listened to my music. This couldn't have happened without you guys".
The Order of Orange-Nassau is a civil and military Dutch order of chivalry founded by the Queen regent Emma on 4 April 1892. Individuals appointed as Officers for appreciation and recognition, having rendered outstanding service of national or international importance. The order can be compared with the Order of the British Empire in the UK.
The knighting followed days after Corsten had released his latest single 'Timeout' with LA-based trance music artist Dustin Husain. The trance collaboration was based to "halt people from the mundane of their working week, studies, or whatever else".
Check out Corsten's recent single on Armada, 'Timeout', with Dustin Husain here.
Grab your tickets for Corsten's What the F world tour here.
Follow Ferry Corsten on his socials for more:
Official Website - https://www.ferrycorsten.com/
Instagram - https://www.instagram.com/ferrycorsten/?hl=en
Facebook - https://www.facebook.com/FerryCorsten
Twitter - https://twitter.com/FerryCorsten
RELATED ARTISTS
Discover Our Great Promo and Booking Service for Artists. Let's get started!
Get Key Info in Electronic Music and Our Services: get our weekly mailer