Electronic Music News > Hard Trance Europe Weekender Moves to Cornwall
Hard Trance Europe Weekender Moves to Cornwall
The 2023 Event Will Take Place In Liskeard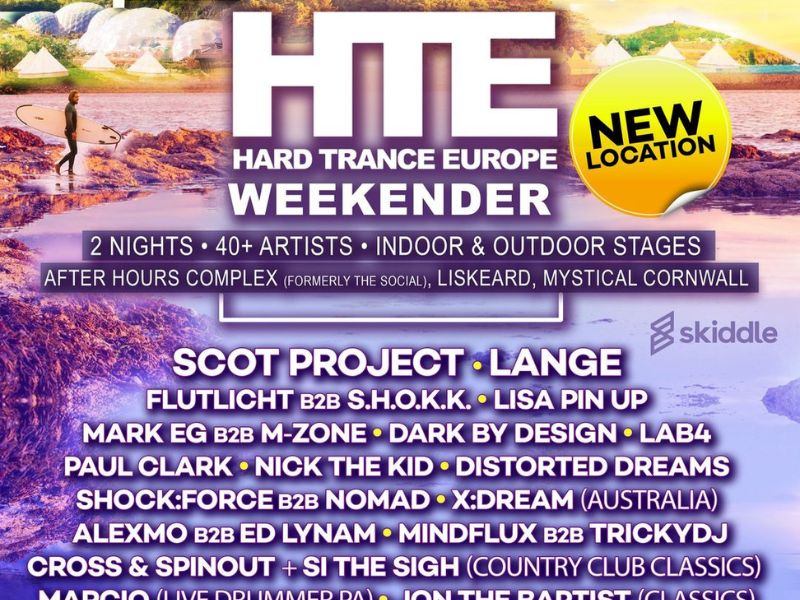 It's been announced that the annual Hard Trance Europe Weekender will be moving to a new location for 2023. Citing rising costs and the closure of their favourite daytime venue, One World, Nick Coles, the founder stated that they "just don't feel we can deliver an event that stands up" to the previous year's in Torquay.
The new location for the event will be the newly refurbished After Hours Complex in Liskeard, Cornwall, which will feature three indoor and outdoor areas for the weekend's programming. 
Coles is excited, saying:
"Hard Trance Europe Weekender 2023 will now take place in Cornwall's hottest new Live Music Venue, The newly refurbed After Hours Complex (Formerly The Social) for a stacked programme across 3 indoor - and outdoor - areas of the venue across the weekend. We will now also be teaming up with leading South West Trance merchants Cohesion, SW Hard Trance institution Hindsight and something we are particularly excited about, the long awaited return of Cornwall's legendary club night, Tranz@ction. It's going to be wild!"
The event, which will take place on June 9th and 10th, will be close to a selection of hotels, guest houses and b&bs, plus nearby camping options at a cost of as little as £10 per person per night.
Existing ticket holders will have their tickets automatically transferred and refunds will be available until January 19th.
In a show of appreciation for the inconvenience, organizers will also be giving all existing ticket holders and anyone who purchases a ticket by the end of February a free copy of the latest HTE Volume 4 Weekender Triple CD (worth £12.99) that can be collected on the weekend.
So, who's avin' it in Cornwall. Get tickets here. Let's go.
Share the news with the hashtag: #HardTranceEuropeWeekender
Discover Our Great Promo and Booking Service for Artists. Let's get started!
Get Key Info in Electronic Music and Our Services: get our weekly mailer