Electronic Music News > Hospital Records Celebrate 500th Release with "Hospital 500"
Hospital Records Celebrate 500th Release with "Hospital 500"
Preorders rolled out- full album release by the end of March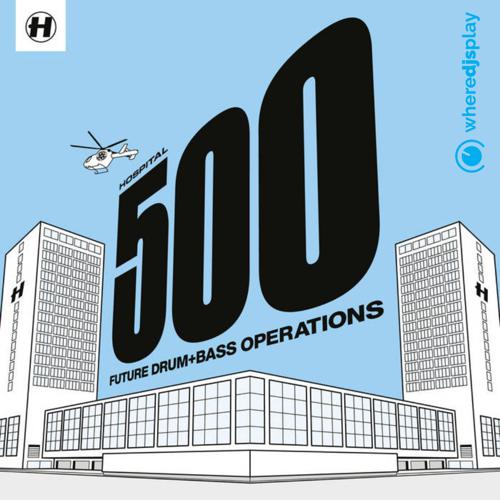 South London-based label, Hospital Records, is celebrating a significant milestone in its long and storied history: the release of their 500th record. To mark this momentous occasion, the imprint has curated a collection of new tracks and remixes of their classic back catalog. The roster of artists on this compilation is a veritable who's who of drum and bass, featuring legends like London Elektricity and DJ Marky, up-and-coming talents like Anaïs, Askel, and Sudley, and other established acts like Netsky and Hybrid Minds, Flava D and Bop. The diversity of styles on this release serves as a testament to Hospital's varied output and its commitment to shaping the future of drum and bass.
"We are all extremely proud to present our 500th release on Hospital. As we begin our 27th year in business this project acts as a timely showcase for the breadth of talent the company is invested in for 2023 and beyond. Hosting established figures like Flava D, Netsky, and S.P.Y, through to up-and-coming talent like Anais, IYRE and Kanobie, this 23-track, 4-piece LP celebrates the myriad of styles that currently piece together our D&B DNA." – Chris Goss – Hospital Records Owner
Over the past 500 releases, Hospital has produced tracks like High Contrast's "If We Ever", Logistics "Together", London Elektricity's countless back catalogue and Netsky's debut album "Netsky", among many others.
With such a rich and varied history, fans of Hospital Records are sure to be eagerly anticipating the label's next moves as it continues to help shape the future of drum and bass.
Click here to preorder the album.
For more updates follow Hospital Records on Insta.
RELATED ARTISTS
Discover Our Great Promo and Booking Service for Artists. Let's get started!
Get Key Info in Electronic Music and Our Services: get our weekly mailer