Electronic Music News > Hospitality In The Woods Returns with Full Range of DnB Sonics
Hospitality In The Woods Returns with Full Range of DnB Sonics
Line-up + exclusive takes from T>I, Degs, Makoto + Ruthless MC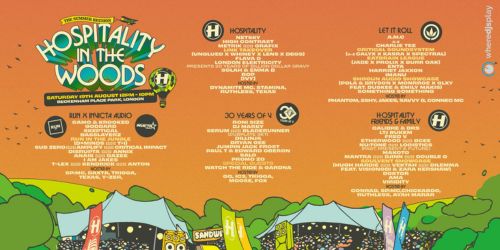 Hospitality In The Woods, the renowned and award-winning celebration of all things Drum & Bass, returns on Saturday 19th August 2023 to the beautiful Beckenham Place Park. This year's event promises to be a heavyweight date on the calendar, with expertly engineered stages hosting a line-up of headliners that cover the full sonic spectrum of DnB including Netsky, High Contrast, A.M.C, Calibre, Roni Size, DJ Marky, Camo & Krooked, Goddard, LTJ Bukem, Metrik, Makoto, T>I , Degs, Ruthless MC and many more.
The Hospitality in The Woods lineup captures the versatility that the label brings today. From the dulcet tones of Degs to the sophisticated sound design of Whiney. All the flavours of DnB are represented from jungle, liquid, jump up, rollers (if it's a sub-genre ;)) neurofunk, dancefloor to minimal.
Degs told wheredjsplay: 
"Hospitality In The Woods is definitely the highlight of the summer. So many labels, brands, artists & ravers all coming together under the Hospitality banner; I can't wait for this summer and to be reunited with the whole drum & bass family" - Degs
Hospital Records has always been about family vibes. And Beckenham woods looks like the perfect place to celebrate this. Set in beautiful surroundings, with greenery, a lush lake, a mansion! And close to london. It's a setting that parallels the classic Hospital sound, beautiful, soulful vibes set against a backdrop of technology and industry. 
"With such amazing memories from Hospitality Weekend In The Woods in 2021, we cannot wait to continue the next chapter of the festival this summer. Beckenham Place Park is the perfect location with a beautiful lake, enormous mansion, ancient woodland and unique and interesting terrain to host unique spaces to dance. We welcome the entire drum & bass community to join us for a whole day celebrating the music we all love." - The Hospitality in the Woods Team. 
Stage hosts include Hospitality, who will be delivering a showcase of the modern scene and giving respect to where it's come from, with special performances from Metrik B2B Grafix, London Elektricity (presents 20 years of Billion Dollar Gravy), a rare Netsky performance and many more. 
Let it Roll will be bringing the heat from the Czech Republic, with the face melting, tekkers of A.M.C, alongside hefty showcasing from Critical, Shogun Audio and more. 
Bristol veterans Run will be combining forces with Invicta Audio who have been smashing out consistent big line-ups and releases. There will be sets from Camo and Krooked, Goddard, T>I and many more frontrunners of the scene. 
 T>I reminisced on the previous Hospitality in the Woods with wheredjsplay:
"My 2021 set with D*minds & the late great Mc Skibbadee was one for the history books the vibes were immaculate" - T>I 
Things are going to "get big, bad and heavy" with the 30 years of V stage bringing everything from neurofunk to liquid to old school. It's going to be a 'who's who' of scene pioneers including Roni Size, Bryan Gee, Jumpin Jack Frost, Marky, and Gaf on the wob Serum B2B Bladerunner for a dubplate special. 
The Hospitality friends and family stage adds the elusive Calibre to the line up supported by the lyrical prowess of DRS, alongside LTJ Bukem, Makoto, Fred V, Nu: Logic and many more. 
Makoto talked to us about the last Hospitality in the Woods: 
'It was simply unforgettable, can't wait to do it all over again!' - Makoto 
A range of vocalists will be adding to the vibes including Emily Makis, Solah and Zara Kershaw. Plus, new school MC's will be stepping up alongside pioneers of the scene, including: Jakes, GQ, SP:MC, Conrad, Chickaboo, Dynamite MC, Stamina, Harry Shotta, Ruthless MC, Visionobi, Degs, and many more.
Ruthless MC talked to wheredjsplay about previous years: 
"Hospitality in the woods was a mind-blowing, goosebump giving, hot flush of beautiful emotions" - Ruthless MC
With all of this contained in one day, it's one for the current crop of ravers and the veterans. Who doesn't love a day rave? 
Tickets are available here. 
Lineup
HOSPITALITY
NETSKY
HIGH CONTRAST
METRIK B2B GRAFIX
LINK TAKEOVER (UNGLUED X WHINEY X LENS X DEGS)
FLAVA D 
LONDON ELEKTRICITY (PRESENTS 20 YEARS OF BILLION DOLLAR GRAVY)
SOLAH & EMMA B
BOP
[IVY]
HOSTED BY
DYNAMITE MC
STAMINA
RUTHLESS
TEXAS
LET IT ROLL
A.M.C 
A-Z 
CHARLIE TEE
CRITICAL SOUNDSYSTEM (A-Z CALYX X KASTRA X SPECTRAL)
EATBRAIN LEAGUE (JADE X PROLIX X BURR OAK)
ENTA
HARRIET JAXXON
IMANU
SHOGUN AUDIO SHOWCASE ( POLA & BRYSON X MONRROE X GLXY FT DUSKEE & EMILY MAKIS)
SOMETHING SOMETHING
HOSTED BY
PHANTOM
2SHY
JAKES
SAVVY B
CONNEC MC 
RUN X INVICTA
CAMO & KROOKED
GODDARD 
SKEPTICAL
BASSLAYERZ
RUN IN THE JUNGLE (D*MINDS B2B T>I) 
SUB ZERO B2B AMPLIFY B2B CRITICAL IMPACT
DISTRUPTA B2B ANNIX 
ANAIS B2B DAZEE
I AM JAKES 
T-LEX B2B KENDRICK B2B ANTON
HOSTED BY
SP:MC 
DAXTA 
TRIGGA
TEXAS
Y-ZER
HARRY SHOTTA
30 YEARS OF V
RONI SIZE
DJ MARKY 
SERUM B2B BLADERUNNER (DUBPLATE SET)
DILLINJA
BRYAN GEE
JUMPIN JACK FROST
PAUL T & EDWARD OBERON
SALO
PROMO ZO
SPECIAL GUESTS: WATCH THE RIDE & GARDNA
HOSTED BY
GQ
IC3
TRIGGA
MOOSE
FOX 
HOSPITALITY FRIENDS & FAMILY
CALIBRE & DRS
LTJ BUKEM
FRED V 
ETHERWOOD B2B BCEE
NUTONE B2B LOGISTICS 
MAKOTO
MATRA B2B DJINN B2B DOUBLE O
SOULVENT SHOWCASE (HUGH HARDIE B2B VEKTAH B2B DILEMMA FT VISIONOBI & ZARA KERSHAW)
DOKTOR
AMA
VIRIDITY
HOSTED BY:
CONRAD 
SP:MC
CHICKABOO
RUTHLESS
AYAH MARAR
Discover Our Great Promo and Booking Service for Artists. Let's get started!
Get Key Info in Electronic Music and Our Services: get our weekly mailer