Electronic Music News > IMS 2023: Fabio & Grooverider , Sherelle + Elijah
IMS 2023: Fabio & Grooverider , Sherelle + Elijah
Keynotes, workshops, & performances on AI and diversity in electronic music also announced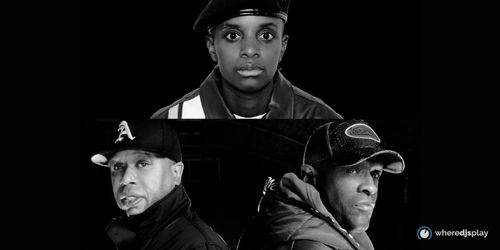 Ibiza's International Music Summit (IMS) has announced the line-up for its 2023 edition, and it promises to be an exciting and informative event for anyone interested in the electronic music scene. Co-hosted by Pete Tong and Jaguar, the event will take place from April 26 to April 28 at the Destino Pacha Ibiza resort.
IMS is a must-attend event for those who want to stay on top of the latest trends, topics, and issues affecting the electronic music industry. This year's event promises to be no different, with a diverse range of speakers covering everything from AI and Web3 to diversity and inclusion.
One of the highlights of this year's event will be a conversation between Sherelle and Fabio & Grooverider. Sherelle is a rising star in the UK electronic music scene and is known for her high-energy sets, productions & radio shows. Fabio & Grooverider are legends of the UK drum and bass scene and have been at the forefront of the genre since its inception, with their keynote entitled "Face the Future" we can't wait to hear the perspectives of these artists on the current dance music scene and where it will go in the future. 
Elijah will also be presenting a workshop titled "Social Media As A Canvas." Elijah is a producer, DJ, and founder of the Butterz record label, and his workshop will explore the ways in which social media can be used as a creative tool for musicians and artists.
Other events at IMS include a keynote interview with Fat Tony, a renowned DJ and producer who has worked with the likes of Grace Jones and Pet Shop Boys. There will also be a production masterclass with LP Giobbi, a rising star in the US House music scene.
In addition to the keynote speakers and workshops, IMS will also feature performances from a variety of artists, including rising UK artist Shygirl, French electronic musician Rone, and Irish DJ and producer Rebūke.
IMS is known for its commitment to diversity and inclusion, and this year's event is no different. In addition to the range of topics being covered, the event will also feature a panel discussion on the impact of ageism in electronic music, as well as a talk on neurodiversity in the industry.
The event is co-hosted by Pete Tong and Jaguar, two highly respected figures in the electronic music world. Jaguar is also known for her work as a DJ, producer, and activist. She recently launched a two-part podcast titled 'Under The Lights: Being A Woman, Trans Or Non-Binary Person In UK Dance Music', which explores the experiences of those who identify as women, trans, or non-binary in the UK dance music scene.
Overall, IMS promises to be an exciting and informative event for anyone interested in electronic music, with a range of speakers, workshops, and performances covering a wide variety of topics.
Follow IMS socials for the latetst info:
Check out DJLink.me :- The ultimate link-in-bio solution for Artists and DJs. Let's get started!
Get our updated bi-weekly DJ news mailer!