Electronic Music News > Introducing the OPUS-QUAD
Introducing the OPUS-QUAD
Pioneers new all-in-one DJ system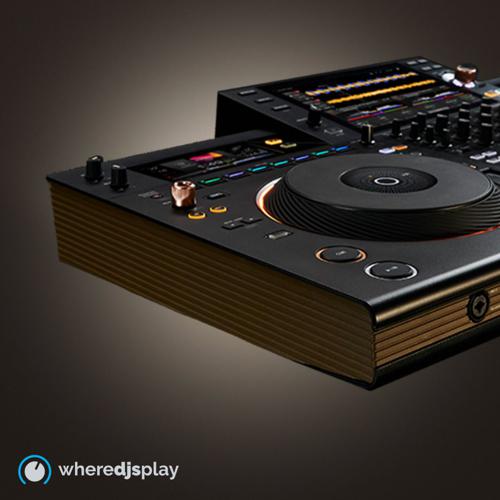 Image credit: Pioneer
Pioneer's latest controller is out, and its firing on 4 cylinders.
The OPUS-QUAD is a brand-new professional all-in-one DJ system that puts you in control of the music, much like a conductor leading an orchestra. This new device features standalone 4-deck playback and combines a beautiful design with a high level of playability, resulting in a spectacular DJ experience that can inspire your audience in any space or location.
The Unique Look of OPUS-QUAD:
The OPUS-QUAD has a unique fan-shaped design that features a sloping top plate and a curved edge at the front. This design is not only sophisticated but also enables comfortable and intuitive operation. The device has a matte black finish with earth-colored slits on the front and sides, making it suitable for any environment.
Standalone 4-Deck Playback:
The OPUS-QUAD offers standalone 4-deck playback, allowing for versatile DJ performances. With this feature, you can play four tracks on four different decks simultaneously, cue up tracks in advance, or leave a deck free for dropping requests into your set at a moment's notice, all with just one unit. You can even assign a different color to each deck, matched by the jog ring illumination, so you'll always know which deck you're playing with.
Support for Multiple Media Sources:
The OPUS-QUAD supports various media types, allowing you to play tracks from USB thumb drives, huge SSD drives, or by plugging in your PC/Mac that's running DJ software. You can also connect via Wi-FiⓇ to wirelessly play tracks from your smartphone using Rekordbox (coming April 2023) or use Rekordbox CloudDirectPlay. With just one OPUS-QUAD, you can draw from various music libraries, and you can even pair a mobile device via BluetoothⓇ/MD wireless technology, perfect if you want to quickly drop a request into your set.
Rapid and Accurate Track Search:
The OPUS-QUAD features a newly designed user interface with an electrostatic touch module that allows you to find your tracks faster and more accurately than ever before. The 10.1-inch touch screen allows you to quickly search for songs via the keyboard or use the Playlist Bank for quick navigation between playlists. With Touch Preview, you can even preview tracks while browsing.
Optimized Deck Configuration and New Smart Cue:
The OPUS-QUAD has a slick deck layout that includes a deck display and eight Hot Cue buttons above each full-size jog wheel. With this arrangement, you don't need to switch your gaze when manipulating tracks or checking things such as the track information, parameter, and status of each function. With the new Smart Cue feature, you can automatically overwrite the current cue position with the recalled Hot Cues, making it much quicker and more intuitive than ever before to use Hot Cues with one touch.
High-Quality Comfortable Sound:
The OPUS-QUAD is designed to meet the needs of the increasingly diverse DJ scene and produce high-quality sound that's comfortable to listen to for long periods. The device's configuration eliminates transmission loss and AD-DA conversion loss, and it's loaded with a high-quality 32-bit D/A converter from ESS Technology, which results in a comfortable sound that enhances the spatial experience.
Easy-to-Use Professional Effects:
The OPUS-QUAD has evolved effects that make it easy to add texture and tension to your music so you can hype up the crowd and personalize your sound with Beat FX. The XY-Pad makes it easy to control features such as FX Bank and channel select, and Beat FX parameters and the cut-off frequency of the filter are controlled by movement.
Overall, the OPUS-QUAD is a game-changing all-in-one DJ system that combines stunning design, intuitive playability, and advanced features to create an unforgettable DJ experience in any space or location.
To stay updated on music products and updates, follow Pioneer on:
Discover Our Great Promo and Booking Service for Artists. Let's get started!
Get Key Info in Electronic Music and Our Services: get our weekly mailer