Electronic Music News > Jay-D: Your DIY Build and Code DJ Mixer
Jay-D: Your DIY Build and Code DJ Mixer
Have Fun Making Your Own DJ Mixer From Scratch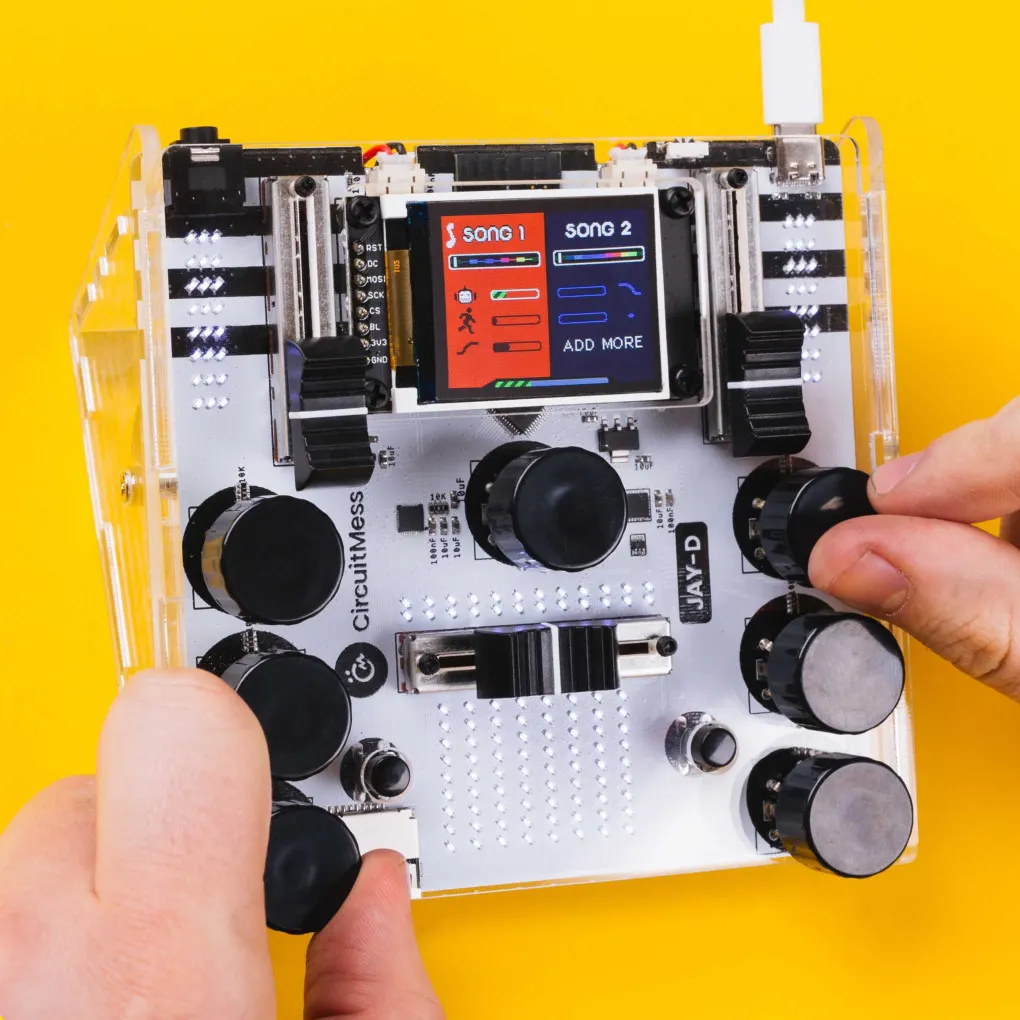 With the rapid developments in professional-grade music technology, one could only imagine devices and instruments getting more complicated for users. Breaking this norm, CircuitMess has launched Jay-D, a simplified DIY DJ mixer one can build, code and play at home, without requiring any prior knowledge.
The DIY kit includes the main circuit board, a display unit, an acrylic casing, a bag of small components and fasteners, two 5W speakers, custom made plastic knobs, and a USB-C type charging cable for power and programming, and a micro-SD card with preloaded beats. All these items can be assembled into a minimalistic yet versatile DJ mixtable in just over 4 hours.
The company aims to awaken the inner tinkerer in the aspiring music fans and has released the Jay-D toolkit with a series of tier-based Instructables, providing step-by-step Anatomy, Build, Usage and Coding guides. The tutorials include topics on music mixing, soldering, fundamentals of electronics, digital to analogue conversion, microprocessors, C++ and Python programming, and sound wave generation.
The product is set for people aged 11+ and can act as a fun science project with a punch of entertainment. Jay-D is designed in a modular way for the customer's ease of development and operation, and CircuitMess also offers its homegrown CircuitBlocks code editor for making coding easier for beginners.
Once Jay-D is built and ready, one can play multiple music files simultaneously, design a custom LED light show, add and control equalisers, fade songs and set BPMs, get creative and produce/save/load song files on the included SD card, and become a DJ pro with practice and innovation. Jay-D also holds a 3.5 mm aux port and can be paired up with external speakers or a TV sound system to turn up the volume and set up a rave anywhere.  
CircuitMess offers a lifetime support program for continuous learning, and their customer success manager Monika provides assistance with builds, coding, and part replacements and answers any queries on the go. Jay-D can also be configured in various formations, be modified to have infinite capabilities, and be integrated with add-ons. CircuitMess has its own Discord community of tinkerers, customers and developers, providing a nurturing environment for exchanging ideas, getting inspired and doing more with Jay-D and other products.  
Jay-D is priced at $119.99 and is currently up for grabs at a sale of $101.99 on CircuitMess' official site with free worldwide shipping. Hurry up and place your order here.
To stay updated on music products and news, follow up:
Circuit Mess Official Website - https://circuitmess.com/
Instagram - https://www.instagram.com/thecircuitmess
Facebook - https://www.facebook.com/thecircuitmess/
Twitter - https://twitter.com/circuitmess
WhereDJsPlay Official Website- https://www.wheredjsplay.com
RELATED ARTISTS
There's no related artist tag.
Discover Our Great Promo and Booking Service for Artists. Let's get started!
Get Key Info in Electronic Music and Our Services: get our weekly mailer