Electronic Music News > KOKO Unleashes Electronic Lineup For The Ultimate Autumn Experience
KOKO Unleashes Electronic Lineup For The Ultimate Autumn Experience
Goldie and Daniel Avery set to take the stage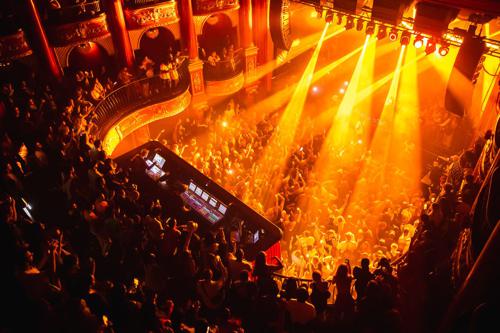 London's iconic KOKO venue is set to blaze into the electronic night this autumn with a stellar lineup that will make your heart race and feet move. Get ready for the beats that pulse through your soul every Friday and Saturday night at KOKO Electronic, a series that has previously welcomed the likes of Skream, Jayda G, Floorplan, Optimo, Jaguar, Mall Grab, and Honey Dijon.
The kick-off on October 13 was nothing short of spectacular, featuring 99GINGER X NTS headlining, supported by the electrifying sounds of Blck Mamba, Half Queen, Kirou Kirou, Qendresa, Shaka Lion, and Talia Goddess. It was a sonic journey that set the tone for the entire season.
As the nights unfold, the excitement escalates. On October 20, the legendary Goldie takes the stage, celebrating 30 years of Metalheadz. Mark your calendars for November 10 when Daniel Avery commemorates the 10th anniversary of his groundbreaking album 'Drone Logic,' accompanied by the talents of Roman Flügel, Manni Dee, and KT b2b with Julia Goldfarb.
Goldie himself shared his anticipation for the October 20 performance, saying,
"This is my old stomping ground, this was the legendary Camden Palace, now KOKOs. KOKOs has a nice history here, and we wanna be part of it on the 20th of October."
But that's not all—ring in the New Year with a bang at the special New Year's Eve party hosted by Horse Meat Disco and some very special guests.
Secure your spot in the electronic extravaganza by grabbing tickets for all these phenomenal events. The KOKO Electronic Autumn Series promises an unforgettable experience, so don't miss out on the beats that will echo through the heart of London.
To catch a glimpse of what's in store, head over to KOKO Electronic's Instagram post here for the full Autumn lineup.
Follow KOKO London and KOKO Electronic to stay updated:
KOKO London
Official Site | Facebook | Instagram | X
KOKO Electronic
Official Site | Facebook | Instagram | X
RELATED ARTISTS
Check out DJLink.me :- The ultimate link-in-bio solution for Artists and DJs. Let's get started!
Get our updated bi-weekly DJ news mailer!