Electronic Music News > Maestro DMX: The AI-based Lighting Designer-In-A-Box
Maestro DMX: The AI-based Lighting Designer-In-A-Box
Check Out The Latest Innovation By The Creators Of Aurora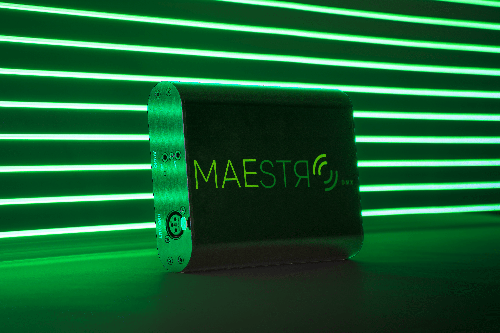 Maestro DMX is the world's first AI-based autonomous lighting controller - the proud creation of Limbic Media, the team behind Aurora interactive lighting box. Maestro is a one-of-a-kind plug-and-play solution to automate the lighting patterns and sequence at any stage, taking over the role of professional lighting designers. It actively responds to music in real-time and makes decisions that synchronize the lighting setup with the music.
Limbic Media created Maestro DMX with live performances in mind. The AI-based lighting controller eliminates all the cumbersome coding, pre-programming, and MIDI clock syncing required coordinate changes and transitions, saving time and boosting accuracy. Traditional methods and products are still prone to miss beats and transitions, go out of phase, and cannot improvise. Maestro DMX on the other hand is fully autonomous and allows musicians to solely focus on what they do the best.
According to Limbic Media, Maestro's patented algorithms intelligently 'listen' to audio to drive lighting for entertainment and gaming environments/products in real-time. Its advanced, parametric lighting engine understands the vibe of the music and jams along, knowing when to switch it up during song changes or the breakdown. The lighting gets excited at a build and then delivers on the drop, and has ​AI-based triggers for lasers, gobos, flames, haze, etc.
 Maestro packs components for Audio Analysis (real-time AI-controlled audio extraction), Decision Making (autonomous logical sequence execution between data and the lighting engine), and a Lighting Engine (parametric, generative lighting models in 1D, 2D, and 3D structures)
Being highly adaptable, Maestro grows into intelligence over time and can easily be programmed to respond to any data. This includes a wide range of gaming sounds, ambient sounds in the environment or any real-time data feeds. It can be integrated into home-based smart entertainment lighting, gaming peripherals, live music events, and even automotive interiors.
Limbic Media has launched Maestro on Kickstarter to make it more readily available to individuals, since their main master product Aurora can only be afforded by large-scale companies.
"Unfortunately, Aurora is a commercial system that costs tens of thousands of dollars. Now, we would like to bring this same technology to DJs, musicians, streamers, and music venues"
Click here to extend support to the project on Kickstarter and join up the Facebook group of VIP contributors here now.
To stay updated on Maestro DMX, follow up:
Limbic Media Official Website - https://limbicmedia.ca/
Maestro Official Product Site - https://limbicmedia.ca/aurora/maestro-technology/
Instagram - https://www.instagram.com/limbicmedia
Facebook - https://www.facebook.com/MaestroDMX/
Twitter - https://twitter.com/limbicmedia
RELATED ARTISTS
Discover Our Great Promo and Booking Service for Artists. Let's get started!
Get Key Info in Electronic Music and Our Services: get our weekly mailer