Electronic Music News > MDLBEAST Announce Concert Series For FIFA World Cup In Qatar
MDLBEAST Announce Concert Series For FIFA World Cup In Qatar
The Aravia Series Shall Consist Of 56 Acts Spread Over 28 Nights After Matches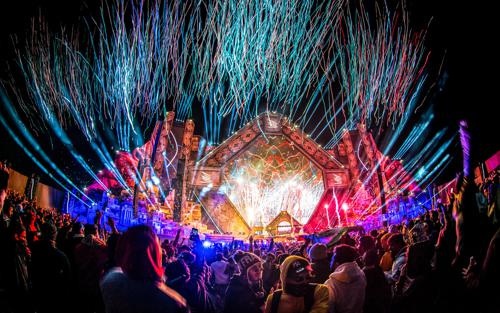 Saudi Arabia's biggest music entertainment company MDLBEAST has revealed plans for a concert music series 'Aravia' on occasion of the much-anticipated FIFA world cup 2022 tournament. The series will be held at the purpose-built stage 'Al-Rihla' in Qatar and shall compose of 56 local and international acts that will entertain fans post-match for 28 nights from 20th November to 19th December.
"The launch of Aravia is a huge milestone moment for MDLBEAST and for the wider region. We are known for putting on legendary live music and entertainment events thanks to the runaway success of SOUNDSTORM, and to have 28 nights of AAA DJs and music in Qatar this year is an exciting prospect. We look forward to bringing the best of dance music to football fans from all over the world," 
- Ramadan Alharatani, CEO of MDLBEAST
The company is expected to reveal the lineup for the event in the coming days soon. The news follows a recent announcement made by FIFA to hold free concerts at 'Al-Bidda Park' in Doha for fans as a new take on the FIFA fan festival.
MDLBEAST is known to be the forerunner and pioneer of Saudi Arabia's recent transition to the music entertainment industry and music-based tourism. The company staged the middle east's first-ever electronic music concert 'SOUNDSTORM' back in 2019 and then returned for a second edition in 2021 after the exhilarating response to their debut. SOUNDSTORM 2021 garnered over 500,000 attendees, making it the biggest music event in the middle east to date. SOUNDSTORM 2022 is also on the schedule – set for December 1,2 and 3 in Riyadh, Saudi Arabia.
Currently, the company continues their global events, has its own record and YouTube channel and interviews local and international musicians.
Follow MDLBEAST for more updates:
MDLBEAST Official Website - https://mdlbeast.com/
Instagram - https://www.instagram.com/mdlbeast/
Facebook - https://www.facebook.com/MDLBEAST/
YouTube - https://www.youtube.com/channel/UCZ11cQTJi3B9ZOvKyyIZfFg
Twitter - https://twitter.com/MDLBEAST
RELATED ARTISTS
There's no related artist tag.
Discover Our Great Promo and Booking Service for Artists. Let's get started!
Get Key Info in Electronic Music and Our Services: get our weekly mailer