Electronic Music News > MDLBEAST Rocks Azimuth AlUla Festival on Saudi Arab's 90th National Day
MDLBEAST Rocks Azimuth AlUla Festival on Saudi Arab's 90th National Day
DJ Snake, Vinyl Mode and Dish Dash Headlined The Desert Event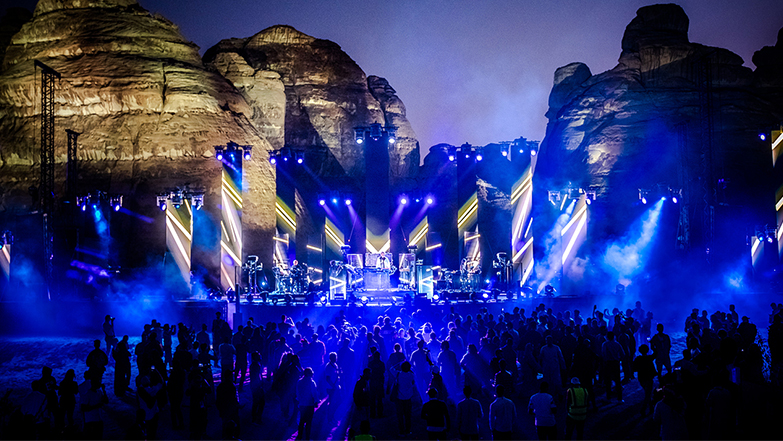 MDLBEAST, middle east's biggest music entertainment company, had a treat lined up for electronic music fans on the historic occasion of the 90th national day of Saudi Arabia with the Azimuth festival held at AlUla. The event ran from 22nd till 24th of September in a local desert valley, with the national day being 23rd.
"East meets West in this 3-day music festival set in the ancient and mystical landscape of AlUla, historically known as an epicentre for cross-cultural exchange. Azimuth festival goers enjoyed music, art, food, and culture during the golden hours of sunrise and sunset, with rich hues of colour glowing across the canyons." – Azimuth Official Website
Azimuth festival made its second annual return this year led by MDLBeast, and featured DJ Snake, Damian Lazarus, Vinyl Mode, Dish Dash, KAYAN, Parov Stelar, ANMARZ, Solskin, Baloo, Birdperson, Nomad, Gooner and more.
"We're incredibly happy to be throwing Azimuth this year over the national day weekend, in the gorgeous and enchanted AlUla." – DJ Baloo, Pioneer of the festival
AlUla Moments, the organiser of the festival is set to host several events this year and the list includes 'Winter at Tantora', 'AlUla Wellness Festival', and 'The Ancient Kingdoms Festival'.
AlUla is emerging as a popular tourist spot with focused developments and recreational activities in the region. It has Saudi Arabia's largest zip line, features helicopter flights over the country's first UNESCO World Heritage site and offers desert tours of the ancient Nabataean civilisation site at Hegra.
MDLBEAST is the pioneer brand to usher in Saudi Arabia's music entertainment revolution and tourism. MDLBEAST led middle east's first-ever electronic music concert 'SOUNDSTORM' which debuted in 2019 and held it again in 2021. SOUNDSTORM 2022 is also on the schedule – set for December 1,2 and 3 in Riyadh, Saudi Arabia.
Follow MDLBEAST and AlUla Moments for more updates:
MDLBEAST Official Website - https://mdlbeast.com/
AlUla Moments Official Website -
MDLBEAST's Instagram - https://www.instagram.com/mdlbeast/
AlUla Moments' Instagram - https://www.instagram.com/alulamoments/
MDLBEAST's Facebook - https://www.facebook.com/MDLBEAST/
AlUla Moments' Facebook - https://www.facebook.com/alulamoments
MDLBEAST's Twitter - https://twitter.com/MDLBEAST
AlUla Moments' Twitter - https://twitter.com/AlUlaMoments
RELATED ARTISTS
Discover Our Great Promo and Booking Service for Artists. Let's get started!
Get Key Info in Electronic Music and Our Services: get our weekly mailer