Electronic Music News > Natty Lou Releases Another Uplifting DnB Heater
Natty Lou Releases Another Uplifting DnB Heater
We talk her latest single, dance moves and more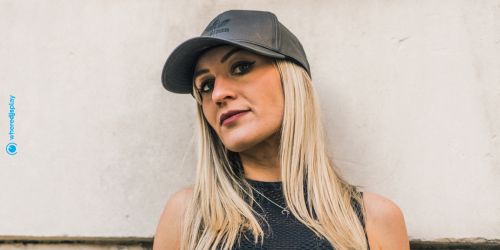 Hey Natty, its great to catch up with you as you are in the midst of you latest release. Alpenglow, a soulful, uplifting, dancefloor DnB vibe with Lottie Jones on vocals. 
- Firstly, you've got quite a vastly varied C.V, a previous professional dancer AND a Geography teacher. What made you switch to DJing? 
Yes, so I studied Geography and Environmental Management at UWE Bristol and then I did a PGCE at University of Bristol. After graduating in 2012, I was a Geography teacher for four years in both London and Dubai. However, in 2016, I decided to leave teaching and pursue my dream career - which, at the time, was to become a professional dancer! I started freelancing and making my way into the dance industry, both in Dubai and Hong Kong. I was incredibly fortunate to have travelled all over Asia, Middle East and Europe to dance for the likes of Sia, Drake, Tinie Tempah, Tia Ray, Hua Chenyu as well as for brands such as Chevrolet, Adidas, Make Up For Ever, Bentley, VIVO Mobile, Etisalat Mobile, Porsche and more. I had the best time living abroad and did some pretty cool stuff!
I had a few DJ lessons whilst I was living in Hong Kong, but I didn't have much time to spend on it, as I was touring all of the time. But in 2020, when COVID-19 hit, I had to travel back to the UK because the dance industry had collapsed. I was living back at home again and I was unemployed. I didn't have much to do really, so I bought a controller and started mixing my favourite genre of music - Drum and Bass - and the rest is history really!
- Would you say they are similar professions with the skills that you need? Performing, holding attention etc. :) ?
I would say that I am a performer at heart. Even teaching in front of 30 kids is a bit of a performance sometimes! I am used to dancing in front of a big crowd - 80,000 was my biggest at the closing ceremony of the London Olympics in 2012! However, I would say that dancing in front of a crowd is much different than DJing in front of a crowd. If you mess up during a dance performance, no one really knows...but if you accidentally mess up a blend whilst DJing, then everyone hears it haha!
- What can we expect from a Natty Lou set? 
A lot of people commend me for my high energetic sets. I play the music that I love - always updating my sets with brand new music, whilst playing a cheeky classic or throwing in a crowd pleaser now and again. I like to take the audience on a journey and I hope my passion for the music shines through!
- Your career has been snowballing from the word go, with bookings at Boomtown, Printworks and Tomorrowland!! What has been your fave set so far and what 2023 booking are you most looking forward to? 
Thank you. I am very blessed and want to thank all of the promoters, brands and my agent for making this happen. It's so hard to choose a favourite, but Printworks b2b with D*Minds was one I'll never forget. I am incredibly thankful to have played the main room before the club closed down. I'm really looking forward to playing Tomorrowland - I still can't quite believe that I'm on the line up this year. A dream come true!
-Your second release, with Lottie Jones, "Alpenglow" has just come out. Describe it in three words? 
Tranquil, Uplifting and Soulful
- How did you link up with Lottie Jones for the vocals? 
Lottie had done a lot of work with Fred V and I had been following her on socials for a while. I was looking for quite a soulful voice for Alpenglow, and she was just the perfect fit for it. Lottie is incredibly talented and so easy to work with! She is making waves this year and it is so well deserved. 
- How are you finding your production journey so far? 
I'm really enjoying the process and I've learnt so much since I first started. I mean, I still have so much to learn but I definitely feel like I've made progress. I started with an 'Education and Bass' course, watching YouTube tutorials, and have been most fortunate to have learnt from other producers in the studio. I can sit in the studio for hours on end, just watching what they do and writing it all down. I have been most fortunate to have collaborated with some incredibly talented producers, MC's and vocalists - watch this space! 
- We provide a link-in-bio for DJs to organize all of their bookings in one place. Do you have any advice for DJs that are new to the scene and struggling to get their first booking? 
I think social media is very powerful. Being present on social media and having it presented as your CV is super important if you want to get yourself out there. Networking is incredibly important too. Once we were out of lockdown, I went to so many events that I wasn't playing at so that I could meet the promoter. It shows them that you have made the effort and are serious about what you do! I would say, try not to take anything personally, keep working hard, believe and you will achieve!
- If you had to pick one cheesy dance move to use for the rest of your life, what would it be? We reaching for the running man? Or maybe feeding the chickens? :)
I love the 'Bart Simpson'. It's an old school Hip Hop dance foundation. If you don't know it, get to know!
Finally, anything else upcoming that you would like to let us know about? 
Excited to announce that my next release is on 5th May - keep your eyes peeled!
Thank you for having me :)
Natty Lou.
Alpenglow is out now on Liquicity. Listen now. 
Natty Lou Socials
Discover Our Great Promo and Booking Service for Artists. Let's get started!
Get Key Info in Electronic Music and Our Services: get our weekly mailer