Electronic Music News > Nopia - The Game-Changing Music Technology Device Redefining Music Creation
Nopia - The Game-Changing Music Technology Device Redefining Music Creation
Unleashing Innovation in Music Creation: Nopia, the Cutting-Edge Game-Changing Music Technology Device Transforming the Landscape of Music Production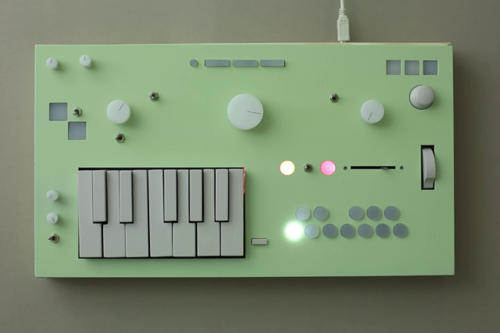 When a product announcement video garners millions of views within a week of its release, it's clear there's something unique on the table. The recently revealed Nopia is creating waves in music technology, intriguing enthusiasts with its unconventional functions and promising potential. On the surface, it's a gadget that looks like it has leaped out of a Wes Anderson movie - quirky and aesthetically pleasing. But beneath its playful exterior lies a powerful combination of music composition tools that could redefine how we approach music creation.

Nopia, with its whimsical appearance, is not just a pretty face. This intriguing music technology device offers a range of unique features that have captured the attention of musicians and enthusiasts alike. At its core, Nopia aims to revolutionize music creation by providing an all-in-one solution for composition, performance, and experimentation.

On the forefront, Nopia presents a compelling array of features that have already sparked the curiosity of musicians. Its ability to generate chords within a chosen key, integration of Tonal Harmony for creating complex chord extensions, and a bass section capable of providing an instant rhythm section are just a few examples. These functionalities promise to streamline the music-making process and open up new creative possibilities for musicians of all levels.

However, as with any new product, particularly one that amasses such swift and significant attention, a critical question arises: Is Nopia just another fleeting gimmick, or does it offer genuine, lasting value to the music world? At first glance, Nopia seems to present an array of compelling features. But beyond the hype and initial interest, the real test for Nopia will be its practical applicability and longevity. Will this device transform how musicians compose and perform, or will it become another forgotten tool in the vast music technology landscape?

To understand better what this novel gadget brings to the table, let's delve into the specifics of Nopia. Its chord generation capability stands out, allowing users to effortlessly create chord progressions that fit harmonically, even without extensive music theory knowledge. This feature alone opens up a world of possibilities for musicians looking to explore new musical ideas and expand their creative horizons.

The integration of Tonal Harmony takes Nopia's chord generation to the next level. By incorporating complex chord extensions and voicings, Nopia empowers musicians to craft rich and sophisticated harmonic compositions. This integration not only saves time but also serves as a valuable tool for unlocking new melodic and harmonic possibilities.

Additionally, Nopia's bass section acts as an instant rhythm section. With a touch of a button, users can generate compelling basslines that provide a solid foundation for their compositions. This feature is particularly useful for solo musicians or producers looking to add depth and groove to their tracks without the need for additional instrumentation.

As the music community eagerly awaits hands-on experiences and user reviews, the success of Nopia ultimately hinges on its practicality and long-term appeal. While the initial buzz and millions of views on its announcement video are promising, the true test lies in its real-world application and staying power within the music industry.

Nopia represents a bold step toward the future of music creation. Its innovative design and powerful features hold the potential to reshape the creative process for musicians worldwide. As musicians and enthusiasts continue to explore the capabilities of this unique device, the industry awaits the verdict on whether Nopia will become an essential tool, inspiring new compositions and pushing creative boundaries.

With the promise of an enhanced music-making experience, Nopia stands as a testament to the ever-evolving landscape of music technology. As the dust settles and the excitement simmers down, the music community eagerly anticipates witnessing the impact of Nopia on music creation and performance. Will it become a game-changer that propels the industry forward, or will it fade into obscurity? Only time will tell. For now, we watch with anticipation as Nopia sets its sights on reshaping the way we approach music-making.
Check out DJLink.me :- The ultimate link-in-bio solution for Artists and DJs. Let's get started!
Get our updated bi-weekly DJ news mailer!