Electronic Music News > Outlook Origins Phase One Line-Up Released
Outlook Origins Phase One Line-Up Released
Shy FX, Goldie, LTJ Bukem, + Fabio & Grooverider confirmed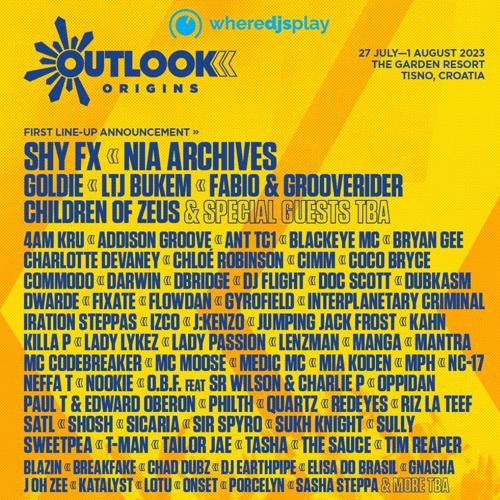 Outlook Origins is back in 2023 in a big way! The lineup this year is packed with some of the biggest names in bass music, including SHY FX, NIA ARCHIVES, GOLDIE, LTJ BUKEM, FABIO & GROOVERIDER, and many more.
Alongside the heavyweight headliners, and originators in their respective scenes, the festival will also feature an array of up-and-coming talent, including relative newcomers: SWEETPEA, KATALYST, NATTY LOU and many more. These artists are sure to bring their own unique flair and energy to the festival.
The week-long event will be a showcase of the best in drum and bass, dub, reggae, and other genres spanning the underground. With the likes of CHILDREN OF ZEUS, 4AM KRU, ADDISON GROOVE, ANT TC1, DUBKASM, and many others.
Book parties on the Adriatic sea in the daytime, alongside after dark entertainment at Barbarella's Discotheque.
With such a talented line up and a diverse range of genres on offer, Outlook Origins is set to be a big one, this is only the first lineup annoucement! Don't wait, grab your tickets now.
Follow Outlook Origins and Outlook Festivals' Insta to stay up to date.
RELATED ARTISTS
Discover Our Great Promo and Booking Service for Artists. Let's get started!
Get Key Info in Electronic Music and Our Services: get our weekly mailer