Electronic Music News > Phil Morse Reviews Pioneer DJ PLX-CRSS12
Phil Morse Reviews Pioneer DJ PLX-CRSS12
Digital DJ Tips present their take on the impressive DJ turntable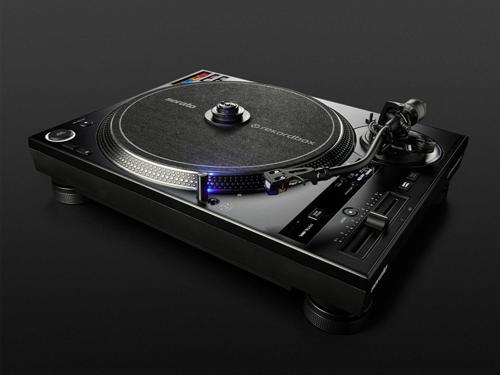 Introduction:
In the world of DJ turntables, Pioneer DJ has always been at the forefront of innovation and performance. With their latest offering, the Pioneer DJ PLX-CRSS12, they have once again raised the bar for scratch DJ turntables. The article builds on the original review by Phil Morse, a mobile and radio DJ, and the founder of Digital DJ Tips, the world's biggest DJ school.
"I will admit – I was worried I wouldn't like this unit. The Pioneer DJ PLX-CRSS12 looked like a 'Frankenstein' turntable to me in the pictures – everything you might dream of in a turntable, inexpertly bodged together." – Phil Morse, CEO Digital DJ Tips
First Impressions and Setup:
At first glance, the Pioneer DJ PLX-CRSS12 may seem like a mishmash of features, but upon unboxing, it pleasantly surprises with its sleek and attractive design. The all-black finish, including the feet and tonearm, gives it a classic Technics-inspired turntable appearance – a must for any serious DJ. The unit feels reassuringly heavy, showcasing its build quality.
Setting up the turntable is straightforward, with all necessary cables and accessories provided. However, the reviewer expressed a desire for wireless setup capabilities like Phase, which could make the setup process even more seamless for compatible mixers.
Platter and Magvel Clamp:
The precision platter, complete with strobe markers, is secured to the motor through a self-assembly process. What sets this turntable apart is the innovative "Magvel Clamp," a puck-like accessory with strong magnets that securely holds the slipmat in place. DJs can adjust the rotation of the slipmat with a dial, adding a touch of customization to their performance. The absence of a 7" adapter might be a slight drawback for some users.
"The control tone would go up the USB from the turntable to the laptop, which would send the audio back down the USB that's connected to the mixer's audio interface. Maybe I'm missing something here, but on compatible mixers, that would make setting up even simpler." – Phil Morse, CEO Digital DJ Tips
Performance Buttons and Controls:
The PLX-CRSS12 features a set of small, backlit rubber buttons for controlling cues, stems, and samples/scratch banks. These buttons aren't intended to provide exhaustive software control; instead, they offer quick access to essential functions during performances, and DJs can pair them with a compatible scratch mixer/controller for more comprehensive controls.
The turntable's motor and platter controls offer low/mid/high torque adjustment, allowing DJs to customize the turntable's response to their preference. A three-way "brake" switch provides options for instant stop, short stop, or medium stop. The inclusion of an OLED screen under the tonearm adds valuable information about the track key, pitch settings, BPM, and Serato/Rekordbox control tone emission.
In Use:
The PLX-CRSS12 was tested with a DJM-S7 mixer and performed admirably for both vinyl playback and DVS mode with control vinyl. The Magvel Clamp torque adjustment proved to be a delightful feature for those who enjoy effortless spinbacks during scratch sessions. The controller deck mode, reminiscent of using a Rane Twelve control deck, is perfect for DJs who prefer to use DVS in Relative mode.
Conclusion:
In conclusion, the Pioneer DJ PLX-CRSS12 is a remarkable scratch DJ turntable with its unique set of features. The performance pad buttons for cues, stems, and samples, as well as the "step pitch" feature, make it stand out from the crowd. The innovative "Magvel Clamp" provides control over slipmat tension, catering to the needs of turntablists. If you're seeking a feature-packed and high-performing scratch DJ turntable, the Pioneer DJ PLX-CRSS12 is undoubtedly worth considering.
To stay updated on music products and updates, follow up Digital DJ Tips. Whether you're a beginner looking to learn the ropes or an experienced DJ seeking to elevate your skills, Digital DJ Tips has got you covered – keeping you informed about the latest gear, techniques, and industry trends, all curated by seasoned professionals.
Digital DJ Tips Official Website
Check out DJLink.me :- The ultimate link-in-bio solution for Artists and DJs. Let's get started!
Get our updated bi-weekly DJ news mailer!