Electronic Music News > Pioneer RekordBox- Major Update for Mobile
Pioneer RekordBox- Major Update for Mobile
All-New Rekordbox Mobile App for iOS Version 4.0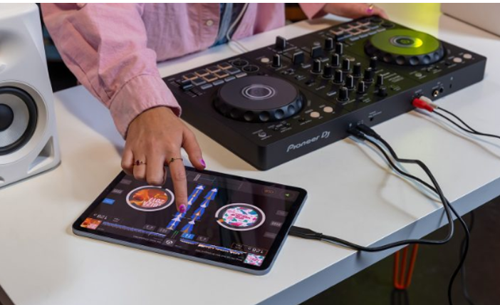 -AlphaTheta Corporation, the company behind Pioneer- is excited to announce the launch of rekordbox for iOS version 4.0. Trusted by countless professional DJs worldwide, rekordbox is a top-notch DJ application. With this major update, you can now begin your DJing journey using just an iPhone or iPad.
To start mixing music from various sources, including streaming services like SoundCloud and TIDAL (separate subscriptions required), simply download rekordbox for iOS version 4.0. You can use the rekordbox mobile app for free even if you have no prior DJing experience. To enhance your DJing skills, connect gear like the DDJ-FLX4, the ultimate DJ controller for beginners, and make the most of the rekordbox mobile app.
Regardless of how you use the rekordbox mobile app - on your iPhone, iPad, or connected DJ hardware - you can trust its features and effects to produce high-quality sound in your sets. As you master the art of mixing, you may choose to subscribe to an in-app subscription that unlocks more advanced performance features and effects.
For more information about rekordbox for iOS version 4.0, visit our website or download the app from the App Store. The app is free to use, with an optional in-app subscription for additional features.
*The release of rekordbox for Android (version 4.0) was initially scheduled for Spring 2023. However, it has been postponed to ensure a smooth user experience, similar to the iOS version. A new release date will be announced on the Pioneer DJ website's homepage.
Key Features of Rekordbox Mobile App for iOS Version 4.0:
DJ for free using just a smartphone: Download the app on your iPhone or iPad for free and start DJing. Create playlists in Portrait mode and switch to Landscape mode to access virtual decks for mixing, scratching, and adding effects.
Seamless integration with DDJ-FLX4: The DDJ-FLX4 pairs perfectly with the rekordbox mobile app, making it ideal for beginner DJs and those looking to advance their skills. Connect the DDJ-FLX4 to your mobile device via USB or Bluetooth®/MD to practice, perform, and share your mixes.
Support for various streaming services: Integrate the mobile app with your SoundCloud and TIDAL accounts (subscriptions required) to access their catalogs and mix tracks from your playlists alongside music stored on your device.
Compatibility with professional DJ gear and cloud connectivity: Connect your iPhone/iPad to pro equipment like the CDJ-3000, XDJ-RX3, or XDJ-XZ, and play tracks saved in the rekordbox mobile app. Sync up to 10 tracks with your cloud-based rekordbox library for free using Cloud Library Sync, allowing for a seamless DJ workflow across devices.
Reliable performance trusted by professional DJs: The rekordbox brand delivers accurate and high-quality scratching, effects, and app performance. Subscribe to the mobile in-app rekordbox subscription for access to advanced functions, effects, and customization options used by professional DJs.
Facebook - https://www.facebook.com/Rekordbox/
Instagram - https://www.instagram.com/rekordbox.dj/?hl=en#
Check out some info from DIGITAL DJ TIPS.
Discover Our Great Promo and Booking Service for Artists. Let's get started!
Get Key Info in Electronic Music and Our Services: get our weekly mailer