Electronic Music News > Rising Stars: A Look At Our Finest Top 7
Rising Stars: A Look At Our Finest Top 7
Get to know our DJLINK.me Beta users in depth
Writer
Rehan S. and Maria S.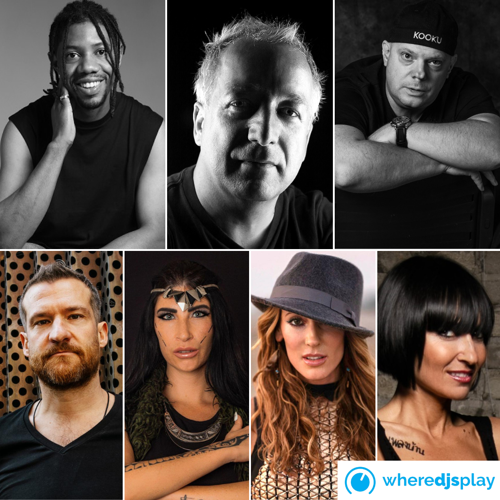 In the ever-evolving world of electronic music, a new wave of talent has emerged, redefining the genre and captivating audiences worldwide. These 7 artists have risen through the ranks, each with a unique story, diverse backgrounds, and an unwavering passion for music. In this article, we dive into the success stories of these exceptional artists who have volunteered as Beta users of our groundbreaking artist booking + promo service  - DJLINK.me.
Jadele: The Multifaceted Dynamo
Meet Jadele, the rising house and techno sensation who's redefining music boundaries. From DJing to music production and songwriting, her remarkable journey awaits.Supported by industry heavyweights like Pete Tong, Boris Brejcha, and Anja Schneider, Jadele's name has become synonymous with cutting-edge electronic music. Her tracks have found homes on esteemed labels like Exploited and Plastic City, while her captivating DJ sets have graced iconic venues worldwide, from Berlin's Sisyphos to London's Ministry of Sound. With a slew of forthcoming releases and collaborations, Jadele's future in the electronic music world is nothing short of dazzling. 
Click here at Jadele (djlink.me) to check out Jadele's YouTube, SoundCloud, Instagram, Facebook and other social media channels - all in one place.
Kooku: The Melodic Innovator
Kooku's music journey is a tribute to the 90s rave scene, blending nostalgia with melodic and progressive house and techno. His unique talent lies in surprising listeners while keeping the dancefloor engaged. His tracks combine modern innovation with emotional depth, making him a leading figure in electronic music's future. His latest releases include Saline V Goliath, Across The Waters To Reach You, Havasu, Symbiosis, and Not The One. One of his latest album, Nest, has been leading Beatport charts, ranking up in the top 5 on Beatport Top 100 in 6 different genres.
Kooku's fire remixes have graced the DJLINK.me platform and have become a force unstoppable. Click here at Kooku (djlink.me) to experience his top mixes, new albums, and social media posts. Book him for events, request personalized remixes, ghost production, or even collaborate with Kooku directly!
Karol Diac - Shaman Lady: The Mystic Enchanter
Shaman Lady, aka Karol Diac, weaves mystical spells with her unique tribal and ethnic-infused sound. By day, it's organic tribal house with oriental and shamanic elements. By night, she delves into tribal tech house, melodic techno, and psy-trance for a dynamic musical journey. Karol Diac's rise has been meteoric, with appearances at national and international festivals such as Neversea, Untold, and the Amsterdam Dance Event. Her production prowess has resulted in records signed with prestigious labels like Blanco Y Negro Music and Indaklubb Records Radio 105. In addition to her festival conquests, Karol Diac is a resident and guest DJ at exclusive beach clubs and venues across northern Italy and Europe. Her sets have left a lasting impression on renowned brands like Monte Carlo Nights and Buddha Bar.
DJLINK.me is proud to have the Shaman lady onboard with its Beta program. Click here at KAROL DIAC (djlink.me) to see her stellar-themed linktree-for-djs built on our site in just a matter of 5 minutes! Setting up a personal page is effortless. She can now get bookings, organize contracts and connect with her fans in one tab.
Dirty Vibezs: From Bass Guitar to Global DJ Sensation
Dirty Vibezs' musical odyssey started at nine in Jamaica, playing bass for the church choir. Later, he embraced nightclub promotion in NYC, driven by a passion that outshone his aviation dreams.His journey as a DJ began, with residencies at iconic New York City venues like PHD Rooftop at the Dream Hotel and Marquee in Las Vegas. Always forward-thinking, he ventured into music production, giving birth to his unmistakable smooth and emotive sound. His tracks 'Ol Blue Eyesz' featuring Sinatra and 'Anthem' featuring Kodat have garnered acclaim, solidifying his status as an artist to watch. Dirty Vibezs' international appeal is undeniable, with over eighty shows annually in cities such as London, Paris, Milan, New York City, and Los Angeles. His sets have attracted a celebrity clientele, including Shaggy, Damian Marley, Usain Bolt, and the ever-popular Drake.
Dirty Vibezs' fans can now simply click at this link: DIRTY VIBEZS (djlink.me) to access a whole wide world all about him on this unique and smart artist promo and booking solution. This one-page site expands his reach, driving bookings, social engagement, and agency support for seamless integration. Dirty Vibezs and DJLINK.me are a combination that deliver!
Lady Caro'zart: The Transversal Artist
Lady Caro'zart, a French-Italian DJ and producer in Luxembourg, began her music journey with deep and house beats, later exploring melodic techno. Her unique style merges melody with pulsating techno rhythms, creating captivating DJ sets. Melodic techno reflects her sweet side, while techno is her formidable force. She's now a producer driven by sharing raw emotions through her music. Lady Caro'zart's musical endeavors have garnered recognition, with her tracks finding homes in respected labels like Krafted Underground, 64K Recordings, Raindrop, AUTEKTONE and Aida Records.
With each passing day, she grows as an artist, continually expanding her creative horizons. DJLINK.me catapulted her growth with expanded outreach, a broader audience, valuable contacts, and an innovative request funnel system. As a Beta user, she enhances the platform's experience, benefiting many artists in the music industry. Click here to see her page: LADY CARO'ZART (djlink.me) 
Danec: The Sonic Explorer
Danec's musical journey is a captivating tale of transformation and exploration. Initially grounded in classical music, he excelled in violin and piano, enjoying success as a band member at prestigious venues like Camden's Jazz Cafe. A pivotal encounter with the legendary Carl Cox, who showcased his prowess with four decks, sparked Danec's passion for mixing. This led him through a diverse array of genres, from drum and bass to electro and techno, drawing inspiration from iconic acts like The Prodigy and The Chemical Brothers. Danec's DJ skills quickly gained recognition, earning him slots at top European and UK venues, including London's The Cross. Music production led to a sonic journey beyond entertainment. Buenos Aires inspired his techno sound, often collaborating with Life Support to create intricate analog-digital tracks.
Danec is a rising force in electronic music, with a growing production portfolio and a strong presence on DJLINK.me. Explore his site, follow his socials, book him for events, request music, or interview him live at DANEC (djlink.me). He's a DJLINK.me enthusiast, and we're thrilled to have him onboard!
Mike Koglin: Trance Pioneer and Icon
Mike Koglin's name is iconic in the dance music history, with a remarkable journey that began in 1998 when The Silence hit the UK top 20 charts, becoming a defining track of the UK trance scene. This catapulted him into the dance music spotlight. As a Grammy-nominated producer, remixer, and DJ, he's released numerous tracks under different aliases and crafted over 70 remixes, showcasing his production skills. In 2016, he launched Yomo Records, a label specializing in Progressive House and Melodic Techno, which currently enjoys support from renowned DJs like Hernan Cattaneo, Nick Warren and Above & Beyond.
Now, you can easily connect with Mike Koglin through DJLINK.me. Discover his socials, book him for events, access festival links, get merchandise, and more, all on his Mike Koglin (djlink.me) page. Don't miss out – book him now!
These 7 artists embody the diversity and innovation of electronic music. Their journeys from different backgrounds and musical influences converge in a shared passion for creating sonic experiences that resonate with audiences worldwide. As they continue to push boundaries and redefine the electronic music landscape, we eagerly anticipate the next chapters in their remarkable success stories.
Do check out their socials and stay tuned at WhereDJsPlay for more!
RELATED ARTISTS
Check out DJLink.me :- The ultimate link-in-bio solution for Artists and DJs. Let's get started!
Get our updated bi-weekly DJ news mailer!