Electronic Music News > Robbie Williams Surprises Partygoers At 528 Gardens Ibiza With Lufthaus
Robbie Williams Surprises Partygoers At 528 Gardens Ibiza With Lufthaus
The Mystery Guest Sent Fans Raving With A Live Concert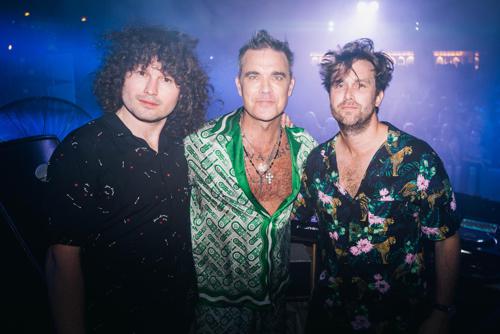 528 Gardens Ibiza surely knew how to captivate their attendees and were hyping up the entry of a mystery guest pairing up with Lufthaus (formerly Armada Music) at their night party on 11th August. The guestlist entry was free for the eve, and the social media campaign had everyone guessing who it was – and it turned out to be none other than the music icon Robbie Williams.
"Introducing GARDENS LIVE Join us under the stars this Thursday as one of dance music's most innovative new acts Lufthaus (a very very special guest! ) and a lineup of the islands most loved DJs takeover our Gardens, Teatro, and Terrace for a night of incredible sounds, drinks, and food."
Entries started at 7:00 pm, and guests started to join the venue with high anticipation. The open-air event kicked off with a session by Valentin Huedo, followed by a presentation made by the rising dance music group Lufthaus, featuring Tim Metcalfe and Flynn Francis. Late at night, the electronic music band was joined by the surprise guest of the night – Robbie Williams!
Robbie Williams shocked fans with this surprise concert, and after completing a few songs, headed over to the DJ booth to set the crowd in a trance. Fans got a chance to dance with him, and he shook hands with a large number of attendees by the stage. The concert went on for 90 minutes of non-stop performances and the event also had other top artists grace the stage. The lineup further included Andy Baxter, Aniurka, Anstascia, Bloem, Doorly, Raya Desouza, Sara De Araujo, and Tallyn P.
Robbie Williams had previously collaborated with Tim Metcalfe on several music ventures and songs and had recently recorded a trance track called 'Sway' with Lufthaus. Although this could have been a great potential hint to whom the surprise guest could be, fans still couldn't have a guess.
Fans that missed out on the Lufthaus performance can catch the band live at the Ibizan Island again on August 14th, at the Ibiza Rocks venue The lineup of the event will feature a very special guest, and Aniurka, Doorly, Miss Foster, and other resident DJs with Lufthaus. For tickets, click here.
Follow Robbie Williams & Lufthaus for updates on concerts and projects:
Robbie Williams' Official Website - https://robbiewilliams.com/
Instagram - https://www.instagram.com/robbiewilliams/
Facebook - https://www.facebook.com/robbiewilliams
Twitter - https://twitter.com/robbiewilliams
Lufthaus' Instagram - https://www.instagram.com/lufthausmusic/
Spotify - https://open.spotify.com/artist/lufthaus
528 Ibiza Website - https://528ibiza.com/
RELATED ARTISTS
Discover Our Great Promo and Booking Service for Artists. Let's get started!
Get Key Info in Electronic Music and Our Services: get our weekly mailer