Electronic Music News > Secret Island Festival 2023 Reveals Full Lineup
Secret Island Festival 2023 Reveals Full Lineup
Get ready to groove with an eclectic mix of top DJs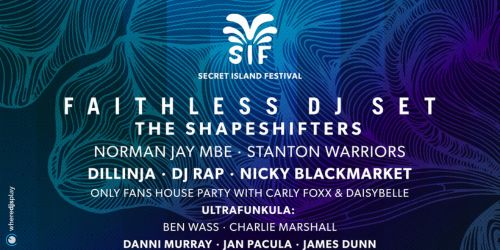 The Secret Island Festival 2023 has just revealed its complete lineup, and it's an impressive list of performers for electronic music fans. This year's festival is set to take place on the 29th July 2023 and promises to be an unforgettable experience.
Headlining the festival is the legendary British electronic music group, Faithless. Known for their blend of trance, house, and trip-hop, Faithless have been making music for over 20 years and have released multiple critically acclaimed albums, including "Reverence" and "No Roots." Their top tracks include "Insomnia," "God Is a DJ," and "We Come 1." which were led by the vocal talents of recently passed Maxi Jazz. The group has also performed at major festivals such as Glastonbury and Creamfields, and their live shows are known for their high energy and mesmerizing visuals.
Joining Faithless on the lineup is The Shapeshifters, a British house duo known for their funky, soulful sound. Their top tracks include "Lola's Theme," "Back to Basics," and "When Love Breaks Down." They have performed at festivals such as Defected Croatia and have remixed tracks for major artists such as George Michael and Christina Aguilera.
Another highlight of the lineup is Norman Jay MBE, a British DJ and producer who has been a prominent figure in the UK music scene since the 1980s. Known for his eclectic mix of funk, soul, and house, he has performed at major festivals such as Glastonbury and Bestival. His is known for his "Good Times" sound system and label, along with many releases and edits that will get you moving.
Stanton Warriors, a British DJ and production duo known for their breakbeat sound, are also set to perform at the Secret Island Festival 2023. Classic tracks include "Da Antidote," and "Pop Ya Cork," feat Twista. They have put together a playlist that represents their sound here. The Stanton Warriors have performed at festivals such as Coachella and Burning Man and collaborated with artists such as René LaVice and Cause & Effect.
Nicky Blackmarket is a drum and bass DJ and producer from London. He started his music career in the mid-80s and is regarded as one of the pioneers of jungle. He has released numerous records under various labels including his own imprint, Kartoons. He has performed at several major music festivals, including Boomtown Fair and Let it Roll, and continues to be a prominent figure in the drum and bass scene. Check out his latest single with Liondub "Lifestyle" feat. Navigator. 
Carly Foxx and Daisybelle are a duo that bring incredible vibes and energy to every set. Already incredible solo artists, the duo gained recognition for their OnlyFans House Parties and have been rocking sets together since. 
Carly Foxx is a London-based DJ and producer known for her dynamic house and techno sets. She has released music on well-known labels such as Vitalik Recordings her own Love Story Recordings.
Daisybelle, also London-Based, is known for her unique blend of house and disco. With releases on Nervous Records, Future Disco and more. 
Together they have played at major festivals and venues around the world including Ministry of Sound, Fabric, Snowboxx, Pikes, Ibiza and many more. The duo is sure to make your body and mind move at Secret Island Festival this year.
The Ultrafunkula DJs will also be bringing the noise. Ben Wass, James Dunn, Matt Prevett, Charlie Marshall and other talent will be playing. With previous gigs at Egg, London, Orange Yard and more, you need to catch their sets.   
DJ and producer Ollie Drummond will be bringing house vibes to the party, with releases on Limousine Dream, Wiggle and more expect, his sets to be next level.
Jake Beautyman is a London-based DJ producer known for his techno productions. He has played at venues such as Fabric, London and had releases on Superfreq Records and more, catch his sets!
Overall, the Secret Island Festival 2023 lineup is an impressive mix of established and up-and-coming talent from the UK dance music scene. With such a diverse lineup of performers, attendees can expect an unforgettable experience on the 29th July 2023. Click here to get your tickets in advance.
Follow Secret Island Festival to stay updated:
Check out DJLink.me :- The ultimate link-in-bio solution for Artists and DJs. Let's get started!
Get our updated bi-weekly DJ news mailer!