Electronic Music News > SetFreaks: A Revolution in DJ Music Downloads with Unrivaled Exclusivity
SetFreaks: A Revolution in DJ Music Downloads with Unrivaled Exclusivity
A New Era Dawns for DJs as SetFreaks Reshapes the Music Scene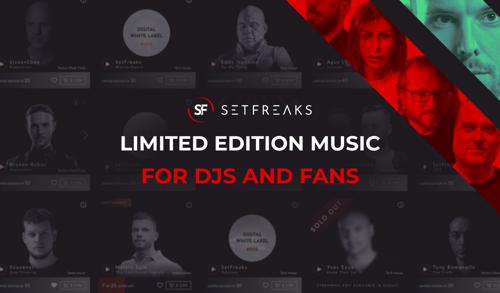 Uninspired by the usual DJ download sites? Enter SetFreaks - a cutting-edge platform that has the music world buzzing with excitement. Breaking away from the ordinary, SetFreaks is redefining the way DJs acquire their tracks, infusing the industry with a fresh dose of exclusivity. Artists and music aficionados alike are applauding this remarkable initiative that values music's true essence and rewards creativity like never before.
Developed by Onnik Tavitian, a former DJ/producer who has emerged as a trailblazing entrepreneur in the music and intellectual property domain, SetFreaks combines the ethos of 'white label' exclusivity with state-of-the-art technology. The result? A game-changing platform where each track is transformed into an exclusive, limited-edition gem, available for only a finite number of downloads and a limited time period.
The allure of SetFreaks lies in its commitment to bringing value back to music. By offering exclusive and limited copies of tracks, ranging from a mere 25 to a tantalizing 250 downloads, the platform ensures that each composition retains its freshness and allure over time, giving it an enduring appeal in the fast-paced music landscape.
SetFreaks' ever-expanding catalog boasts a diverse array of genres, from techno and tech-house to house, deep house, and melodic house. With ambitious plans to delve into even more musical categories, the platform is poised to become a haven for both established artists and emerging talents seeking alternative avenues to showcase their music.
Esteemed names like Robert Babicz, Cristian Varela, and Agent Orange DJ have already embraced the SetFreaks platform to unleash their latest musical creations. As a result, DJs worldwide are clamoring to join this exclusive club, where access to exceptional tracks is a privilege granted only to a select few.
SetFreaks isn't just transforming the music industry; it is elevating the DJ experience to unprecedented heights. DJs can now curate sets that resonate with authenticity and originality, leaving audiences mesmerized with rare, high-quality tracks that few others possess.
But that's not all; SetFreaks goes the extra mile to celebrate each DJ's ownership of a limited-edition track. Upon purchase, DJs receive a personalized certificate that proudly bears their name, a heartfelt message from the artist, and a specific reference to the secured copy. It's an elegant touch that cements the unique bond between the artist and the fortunate DJ who possesses a musical masterpiece.
In conclusion, SetFreaks is disrupting the status quo, carving a niche as a premier platform where exclusivity and creativity reign supreme. With its unparalleled approach to DJ music downloads, the platform is igniting a new era in the music world, captivating artists, DJs, and music enthusiasts alike.
So, if you're a DJ in pursuit of the extraordinary, SetFreaks beckons. Step into the realm of unrivaled exclusivity, where your sets will resonate with unprecedented originality and immerse your audiences in the true essence of music.
Click here to join SetFreaks and drop your Demo now!
Follow up SetFreaks across their socials for more updates:
Check out DJLink.me :- The ultimate link-in-bio solution for Artists and DJs. Let's get started!
Get our updated bi-weekly DJ news mailer!