Electronic Music News > SOMA Labs Present A Microtonal TERRA Synth
SOMA Labs Present A Microtonal TERRA Synth
The New Synthesizer Will Be A Major Highlight At Superbooth Berlin Next Week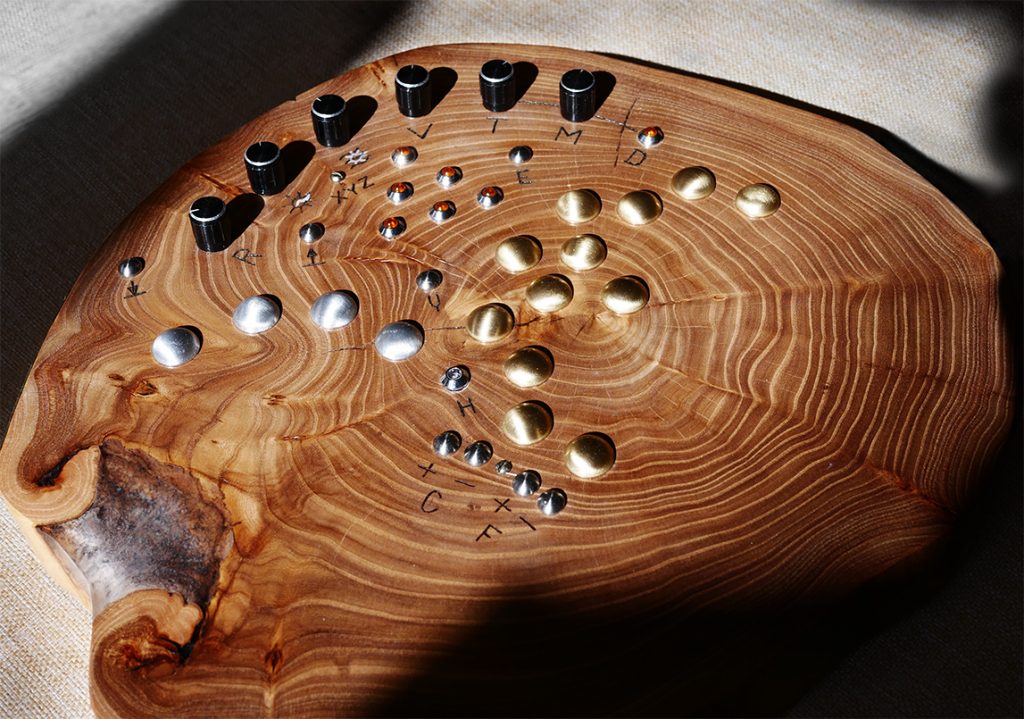 SOMA Labs, the Russian and Polish-based company famous for their innovative takes on musical instruments, had been developing a mysterious project that now has been revealed as the new TERRA synthesizer. The TERRA synth is all set to be showcased at the Superbooth Berlin on May 13th.
SOMA Labs debuts the technology with an overview of their concept and visionary design behind TERRA:
"TERRA is a highly conceptual device. The core idea is the unity of nature and technology, and a perfect balance between simplicity and versatility. Behind the extremely simple interface hides a complex polyphonic, microtonal synthesizer with a broad and flexible sound palette that ranges from classical beautiful tones to complex atonal noise, and offers smooth and fast transitions between these extremes."
TERRA is a polyphonic synth with complex pitch capabilities. It can cover the full range of a grand piano and can tune notes at 125 steps per semitone, enabled via 4 special sensors on a keyboard assigned for shifting pitch. This can result in 16 variations of keyboard transposing including 3 up and down octaves, fifth, fourth, third, tone, etc.
What sets TERRA apart is the state-of-the-art technology it holds in the most unique way possible. TERRA holds an array of 12 note sensors with velocity and pressure to adjust attack and vibrato, 4 dynamic sensors for timbre control, 4 pitch-shifting sensors and 2 hold sensors, all integrated into a solid slice of a tree trunk. The synth does not have a digital display and shows data on a 6 LED-sensor triangle in the centre. SOMA Labs explains the concept behind this nature-esque design take:
"TERRA is a sanctuary for a natural soul right in the middle of the rumbling plastic world, a ground where you can breathe in and out slowly, and hold on to your roots. TERRA is our dream about a bright future where we will be both technologically advanced and more connected to nature, where machines and technology are not a prison for our feelings and spirit but their extension."
Other features of the synth include 3-axis motion sensing for intuitive modulation by the hands and the body, 32 complex digital synthesis algorithms, and a built-in FX processor. The simple interface allows saving and loading 96 presets that are stored directly on the playing sensors. TERRA's design principles were based on SOMA Labs' previous projects, LYRA-8 and ReFLEX, re-inventing the future of musical instruments and synths.
With an expected availability of 2022-2023, SOMA has posted a Demo video and opened a pre-order form without giving any pricing specifics yet.
SOMA Laboratory will be presenting the TERRA synth at the Superbooth in a Gesprächskonzert keynote by the founder Vlad Kreimer himself. They have booked a special booth number 0116 and invite enthusiasts to the first presentation on May 13 at 4.30 pm at the Auditorium.
To read more about TERRA and SOMA Labs' latest inventions, follow:
SOMA Labs Official Website - https://somasynths.com/
TERRA Official Website - https://somasynths.com/terra/
Instagram - https://www.instagram.com/somasynths/?hl=en
Facebook - https://www.facebook.com/somasynths/
Twitter - https://twitter.com/_somalabs
RELATED ARTISTS
Discover Our Great Promo and Booking Service for Artists. Let's get started!
Get Key Info in Electronic Music and Our Services: get our weekly mailer