Electronic Music News > Spotify Launches Its Own AI DJ
Spotify Launches Its Own AI DJ
The feature even has lifelike vocal commentary!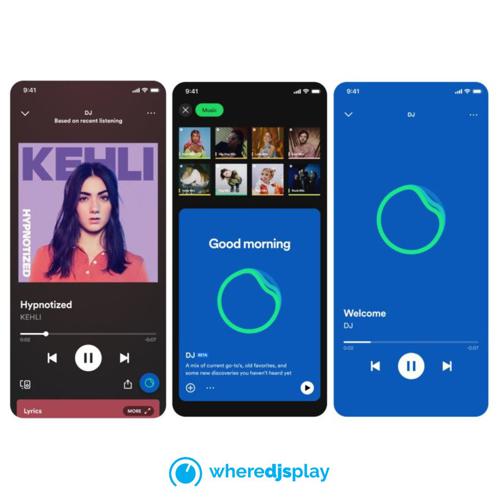 Spotify has unveiled an AI-driven DJ feature that utilizes machine learning algorithms to understand your music preferences and play your favorite tunes. According to a recent post on the streaming platform's blog, the new tool represents:
"A bespoke AI companion that knows you and your music predilections so well that it can curate a playlist tailored to your tastes". - Spotify
The feature, which is currently being launched in beta, will present a hand-picked selection of songs accompanied by commentary on the tracks and artists that are most likely to appeal to you. The platform has promised that the DJ function will sift through the latest music releases and also consider your past favorites, potentially even resurfacing songs that you haven't listened to in years. It will then use your feedback to refine its choices and ensure a constantly evolving playlist.
"If you're not feeling the vibe, just tap the DJ button and it will switch it up," the blog explains. "The more you listen and tell the DJ what you like (and don't like!), the better its recommendations get. Think of it as the very best of Spotify's personalization-but as an AI DJ in your pocket." - Spotify
To create the DJ feature, Spotify has completely reimagined the way in which users interact with its platform. The DJ algorithms will analyze your music preferences and suggest the latest releases that are likely to resonate with you, or return you to playlists from previous years that you enjoyed. The result is a highly personalized experience that takes into account your unique tastes and listening habits.
Earlier this month, Spotify announced that it had surpassed 200 million paying subscribers, making it the first streaming service to do so. In addition, a further 295 million listeners used the platform under its free, ad-supported model.
To read the full blog from Spotify, click here.
To keep updated on the AI DJ feature by Spotify follow their accounts on:
Discover Our Great Promo and Booking Service for Artists. Let's get started!
Get Key Info in Electronic Music and Our Services: get our weekly mailer