Electronic Music News > Tik Tok Artist of the Week
Tik Tok Artist of the Week
Dare Devil DJ Continues Insane Stunts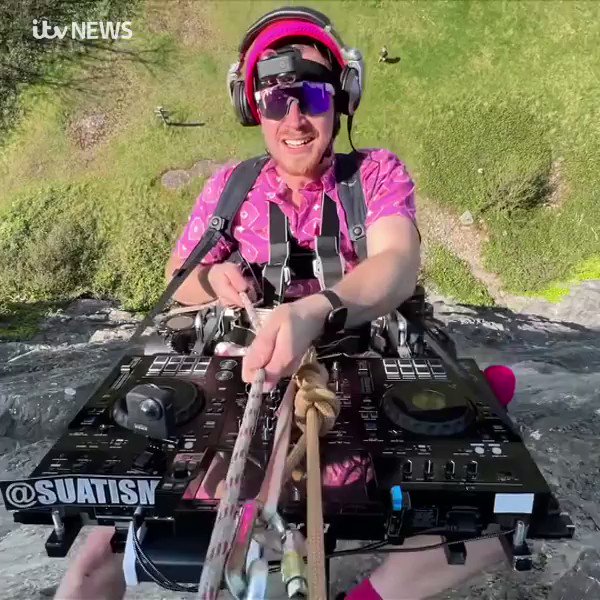 The Artist of the Week, DJ Zach Sabri aka SUAT, has taken the internet by storm with his crazy stunts and thrilling acts. This time around, SUAT can be seen hanging off a 200 ft cliff with his music deck attached to his waist. The DJ filmed himself attached to the barren rockface by his climbing gear and a rope, while he jumped around carelessly and played beats on his setup. Zach entertained fans with jokes and quips on how deadly the climb actually was and how he could see a 'pigeon graveyard' nearby and how he had 'already lost his headphones'. The SUATISM movement founder showed off his wits by the 'Extreme' stunt and then left a message for his haters at the end of the clip.
This isn't the first time SUAT has been found doing insane tricks and challenging acts for his audience. SUAT only recently escaped arrest outside Buckingham palace when he blasted tunes and beats to set up a public rave in front of it. He was confronted by the on-duty police officers but managed to outsmart them in stating the clauses of the law.
"Anywhere can be a dance floor if you try hard enough".
 That's the mentality that drives Zach — the roving DJ who brings the rave with him anywhere he goes. Only just when the streets and parks didn't seem to be enough, SUAT raised the bar 200 ft higher to hang himself down a cliff.
Zach's list does not end here. In his debut-to-fame incident, SUAT brought his music setup to the UK Houses of Parliament during a Brexit rally in 2018 to join the commotion and start a rave. The police were quick to give resistance and shut him down, but the daring act was enough to skyrocket SUAT into the headlines. Most of SUAT's clips on his socials are highlights of his stunts, public raves, encounters with the police and musical performances in unique and unconventional areas- such as the 200ft vertical rock in his most recent one.
Realising his talent and love for music, Beatport has teamed up with the DJ to create a new monthly live stream series. Click the link to watch new episodes of LINK UP with SUAT and know more about the iconic stuntman DJ.
Follow DJ SUAT and his daring acts on his socials:
Official Website - https://www.suatism.com/
Instagram - https://www.instagram.com/SUATISM/
Facebook - https://www.facebook.com/SUATISM/
TikTok - https://www.tiktok.com/@SUATISM
Twitter - https://twitter.com/SUATISM
RELATED ARTISTS
Discover Our Great Promo and Booking Service for Artists. Let's get started!
Get Key Info in Electronic Music and Our Services: get our weekly mailer