Electronic Music News > Tim Green Returns To All Day I Dream Unveiling His Three Track Ep The Night Is Blue
Tim Green Returns To All Day I Dream Unveiling His Three Track Ep The Night Is Blue
Acclaimed Producer And Beloved All Day I Dream Family Member Tim Green Returns To The Label To Deliver A Captivating Ep Of Melodic Gems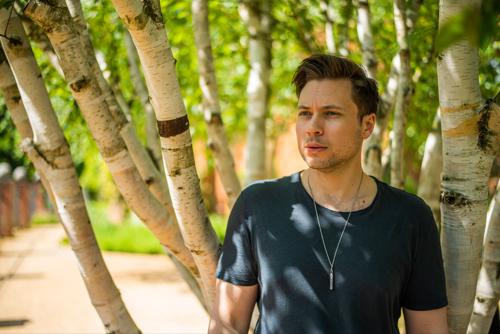 AVAILABLE 7/21/23
BUY / STREAM THE NIGHT IS BLUE HERE
Esteemed producer and All Day I Dream fan-favorite Tim Green is back releasing on Lee Burridge's renowned imprint, offering an EP full of melodic gems. The Night Is Blue EP includes three enchanting compositions - the record's A side is its titular track, and the B side contains tracks 'Gold of Gold' and 'Jewel'. Never failing to deliver top-quality music, Tim Green returns to All Day I Dream to add another phenomenal release with the label to his catalog.
Tim Green has demonstrated his mastery across the spectrum of electronic music during his 15 year career. Having initially made his mark with a series of notable releases for Sven Vath's Cocoon imprint, his evolution to a deeper more melodic sound has won him an army of adoring fans. Outstanding remixes for artists as varied as Paul McCartney to Ben Böhmer or Perry Farrell to Mathew Jonson and the introduction of Tim to the All Day I Dream family were all pivotal moments in his upward trajectory. Indeed since 2020 Tim has released multiple EP's with the label including iconic tracks such as 'Tears', 'Vacation To Life', and 'Moss'.
The EP opens with its titular track; Tim kicks off the record with an isolated rhythm, starting things off soft, but gradually increasing the volume and the energy of the mix as more and more elements are incorporated. A playful, carefree melody dances above Tim's masterful foundation of clean yet nuanced percussion, spacey pads, and a resonant bassline. The beautiful vocal samples introduced during the track's first breakdown juxtapose the tension building within the instrumental as filters are applied. Following the second breakdown, the final section of 'The Night Is Blue' is euphoria-inducing - as tension is released from the instrumental, we hear the lyrics clearly for the first time, resulting in pure ecstasy. Tim certainly sets the tone for the rest of the EP with this track - be prepared for two more instances of melodic magic to come on the B side.
Regarding the EP's title track, Tim reveals: "I actually started writing 'The Night is Blue' on a plane! At least its core elements. Like the drums, leads, bassline, etc.  I was coming back from Dubai, from playing an All Day I Dream show with Lee Burridge the night before. I absolutely loved Lee's set so much and the songs he was playing. I got super inspired and spent the whole seven hours writing the song. So it was always intended to be released on All Day I Dream, and feels happily full circle that it's being released on the label!"
Fans will have the chance to catch Tim spinning tracks from The Night Is Blue during 2023 his summer tour. Alongside fellow All Day I Dream mainstays Sébastien Léger, Jim Rider, Dim Kelly, et al, Tim will be performing at All Day I Dream of Ibiza Magic parties at Cova Santa on July 27 and September 14. You can also catch Tim at Stereo Bar in Montreal on July 23, Amber of the Moment in Funchal on July 29, and Bedrock in London on August 5 among a plethora of other dates across the globe.
ADID099: Tim Green - The Night Is Blue EP
1. Tim Green - The Night Is Blue
2 .Tim Green - Gold of Gold
3. Tim Green - Jewel
Connect with Tim Green:
Spotify | SoundCloud | Facebook | Instagram | Twitter
Check out DJLink.me :- The ultimate link-in-bio solution for Artists and DJs. Let's get started!
Get our updated bi-weekly DJ news mailer!