Electronic Music News > Time Warp Unleashes Its 2023 Line-Up
Time Warp Unleashes Its 2023 Line-Up
Time Warp Returns After 4 Years And The Line-Up is Huge!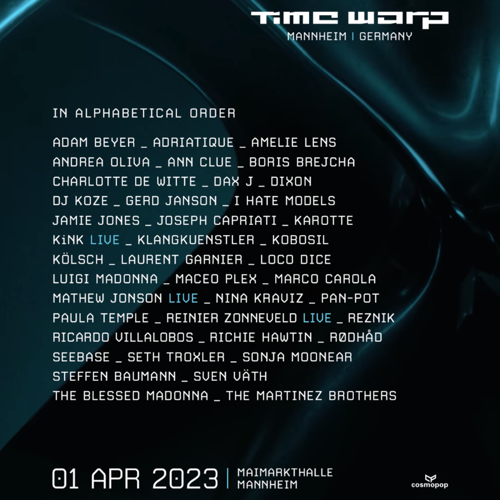 Wheredjsplay are excited to share the lineup for Time Warp's highly anticipated Mannheim edition, set to take place at Maimarkthalle on April 1st and 2nd. Time Warp, a pioneering electronic music festival founded in 1994, has cemented its place as a global player in the industry, drawing in thousands of attendees and top-tier talent to its stages year after year.
This year's Mannheim lineup is stacked with some of the biggest names in electronic music, including Dixon, Ricardo Villalobos, The Blessed Madonna, Seth Troxler, Gerd Janson, Sonja Moonear, Paula Temple, Richie Hawtin, Jamie Jones, KiNK, Charlotte de Witte, and Dax J.
Don't miss your chance to be a part of this unforgettable event – sigh-up for the presale here!
#TimeWarp #Mannheim #ElectronicMusic #Festival #Dixon #RicardoVillalobos #TheBlessedMadonna #SethTroxler #GerdJanson #SonjaMoonear #PaulaTemple #RichieHawtin #JamieJones #KiNK #CharlotteDeWitte #DaxJ
RELATED ARTISTS
Discover Our Great Promo and Booking Service for Artists. Let's get started!
Get Key Info in Electronic Music and Our Services: get our weekly mailer